Reaching for Rainbows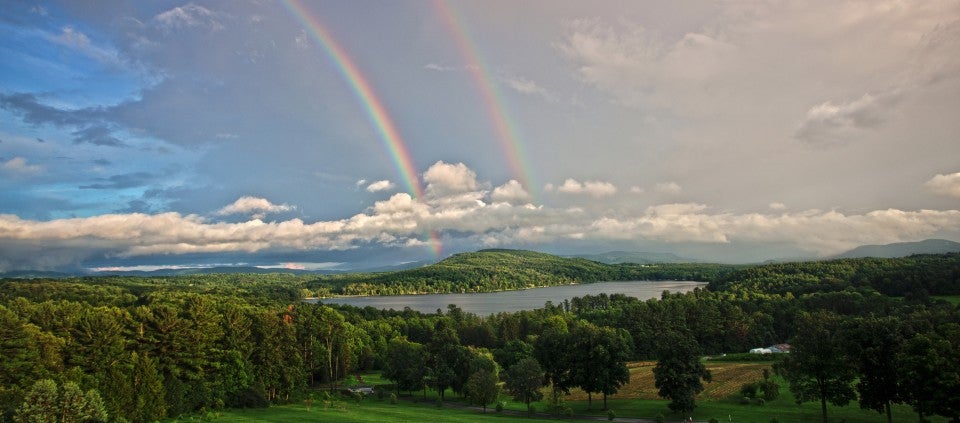 Not long ago, my husband, Rick, and I celebrated our 32nd wedding anniversary by spending five days in the same West Virginia state park where we honeymooned so long ago. We hiked all its footpaths, reveling in woods and wildflowers. When we weren't out walking, we enjoyed romantic meals in our little cabin and read aloud to each other during rain showers. Mostly, we allowed ourselves to slow down and really appreciate each other's company.
At the end of this second honeymoon, we bought a round glass crystal from a gift shop near the park, which we took home and hung in the east window of our yoga space. As soon as the sun broke free of a cloud, the room filled with rainbows. They were everywhere—on the walls, the floor, the ceiling, and even on Rick's back as he held Downward Dog. We agreed that the changing kaleidoscope of colors was a perfect memento of our time together in the park.
On a sunny morning a few days later, I was finishing my standing postures with the Dancer, holding my right foot in my right hand, and stretching forward with my left hand. As I balanced and breathed, I noticed a particularly vibrant rainbow on the wall in front of me. I stretched a bit further, and the phrase, "reaching for rainbows" popped into my head, provoking a smile. I concluded my asana practice and moved into my day, but the phrase followed me. Reaching for rainbows, I thought, as I poured a bowl of cereal and sliced a banana. How many times in my life have I gone after a goal that seemed entirely beyond my reach?
The first example that offered itself as I pondered the question happened in 1983, early in my budding relationship with Rick. After a failed first marriage and in the midst of a painful divorce, it would have been easy to believe myself a proven failure at intimate relationships. It was definitely reaching for a rainbow to consider exploring love through a different lens, especially when it was quickly apparent to both of us that this wasn't just any relationship. It had long-term potential. In fact, marriage was written all over it.
Doubts assailed me, but somehow I allowed the knowing in my soul to lead me forward instead of listening to all the reasons my mind offered for why this wouldn't work. Thirty-four years later, I can say that stretching past the doubts and out of my comfort zone to begin a partnership with the man I would marry two years after we met was one of the best things I ever did.
It was definitely reaching for a rainbow when I headed from Virginia to western Massachusetts to take 200-hour Kripalu Yoga Teacher Training in 1987. A month-long yoga immersion that required practice teaching in front of my peers and the instructor—the whole experience was a lesson in stretching into unknown territory. Happily, I persevered, and when I arrived back home, I was clutching a certificate that qualified me as a Kripalu Yoga teacher and grinning from ear to ear at my accomplishment.
I reached for another rainbow when I decided to publish my first poetry book in 2002. The wrestling match in my head between wanting to put the book out and doubting that anyone would be interested paralyzed me for months, but the poet in me finally won. I had no idea how to self-publish a book, but I learned, one small step at a time, until, months later, a UPS truck in the driveway disgorged a thousand copies of Go In and In. I thought I'd probably be storing those books in a closet for years, but I sent copies to a number of yoga teacher friends who began to read my poems in their classes. Many reprints later, I'd like to say I never doubted myself again, but of course that isn't the case. What is true is that the success of my first book gave me the courage to keep writing, keep exploring what I had to say, and continue to put books out into the world, despite my mind's naysaying.
Going into therapy to address depression might appear a strange way to reach for a rainbow, but just calling a therapist to set up an appointment for the first time in the early 1980s meant that somewhere inside the hollow, arid depths of my despair, I believed in myself enough to ask for help. In the years since, I've been in therapy a number of times. The bottom line has been that I've continued to grow and transform, using the support of a therapist when I needed it to break out of the negative orientation that seemed to be hardwired into my brain.
Currently, I'm exploring Internal Family Systems therapy, getting to know all aspects of my psyche. I've discovered that parts of me took on fiercely protective roles as a result of childhood trauma, and while those roles may have served me well at age four, they are significant roadblocks to freedom at age 64. Can I love these facets of my personality back into a more holistic and creative expression of their energies? Can I appreciate what they did for me in the past, and leave behind the defenses I adopted to keep me safe six decades ago? The outcome of this particular experiment is unknown, as my work is ongoing, but I do know this: I'm happier now than I've ever been, a fact that occurs to me as the pot of gold at the end of a rainbow.
Going past perceived limits, playing the edge, paying attention to areas in which I need to grow—it seems these things are part of the reason I'm on the planet. It's obvious that the process of growth and evolution isn't a one-shot deal. It's as if reaching for one rainbow brings the next one into view. As I look at the spectral display that a single ray of sunlight casts throughout our yoga room, I am reminded that it isn't even necessarily the particular rainbow I reach for that has meaning, but that I continue to stretch, change, and take aim at the next obstacle, goal, or habit that needs my attention. And if I forget or feel stuck, I only need a sunny day and my yoga practice to remind me that there are infinite numbers of rainbows within reach.
Danna Faulds is the author of six books of poetry and the memoir Into the Heart of Yoga.
Danna Faulds, author of seven poetry books and the memoir Into the Heart of Yoga: One Woman's Journey, is a long-term Kripalu Yoga practitioner.
Full Bio and Programs