The Yoga of Dylan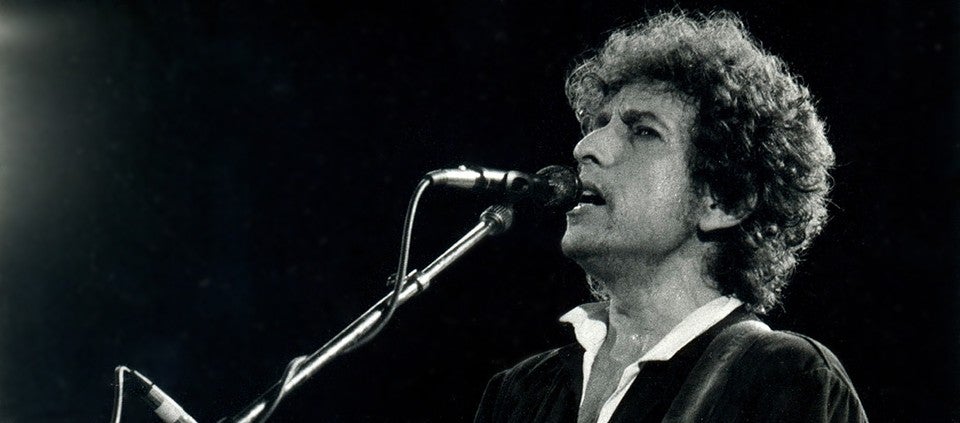 I must admit, I'm not a die-hard Bob Dylan fan. I favor the velvety crooners—Sarah Vaughan, Ella Fitzgerald, Michael Bublé—and though I know Dylan has been delivering renditions of Great American Songbook classics since his 2015 album Shadows in the Night (a tribute to Frank Sinatra), I have always found it difficult to get past his mumbling, discordant voice.
Since the announcement of Dylan's Nobel Prize win in Literature, however, I've become a quick study, curious about what draws so many to his words. I ask friends to cite their favorite lyrics, expecting a series of melancholy lines to follow. I think of Dylan as a grump, an elusive non-smiler and refuser of interviews. And there is some of this, to be sure, in the beautifully sad lines I receive.
Oh, the flowers of indulgence and the weeds of yesteryear
Like criminals, they have choked the breath of conscience and good cheer.
("Every Grain of Sand")
But often, Dylan sounds like the Bhagavad Gita.
All you can do is do what you must.
("Buckets of Rain")
Whatever colors you have in your mind.
I'll show them to you and you'll see them shine.
("Lay, Lady, Lay")
People tell me it's a sin
To know and feel too much within.
("Simple Twist of Fate")
Someday everything is gonna be smooth like a rhapsody
When I paint my masterpiece.
("When I Paint My Masterpiece")
You don't need a weatherman to know which way the wind blows.
("Subterranean Homesick Blues")
Don't think twice, it's all right.
The quotes above wouldn't be out of place in a yoga class, offering practitioners a nudge to "be present with what is" and also to challenge the limiting thoughts that may be on endless repeat. I read and reread Dylan's lyrics, struck by his mix of gritty realism and positive assurance—sunniness, even. I can see how he offers the notion of reconditioning and renewal ("The times they are a' changin'"), even as he acknowledges the ugly and the painful ("It's not dark yet, but it's getting there"). I'm reminded that it's entirely possible—and beneficial—to contain both the light and the shadow.
There is a lesson for me in this. My initial dismissal of his voice is of course a mighty projection. (How harshly I judge myself when wavering even slightly in pitch.) Dylan's words can be a call for self-compassion.
Says Jon Pareles in the New York Times, "There's no question that Mr. Dylan has created a great American songbook of his own: an e pluribus unum of high-flown and down-home, narrative and imagistic, erudite and earthy, romantic and cutting, devout and iconoclastic, finger-pointing and oracular, personal and universal, compassionate and pitiless." Dylan's off-key intonation is yet another way of remembering: Our imperfections are simply part of the larger songbook. I wouldn't want to miss any of the tunes.
Lara Tupper sings, writes and teaches in the Berkshires. laratupper.com
© Kripalu Center for Yoga & Health. All rights reserved. To request permission to reprint, please e-mail editor@kripalu.org.
Lara Tupper, MFA, is the author of two novels, Off Island and A Thousand and One Nights, and Amphibians, a linked short story collection forthcoming in 2021.
Full Bio and Programs