Yoga Plus: Merging an Ancient Practice with Everything from Ballet to Beer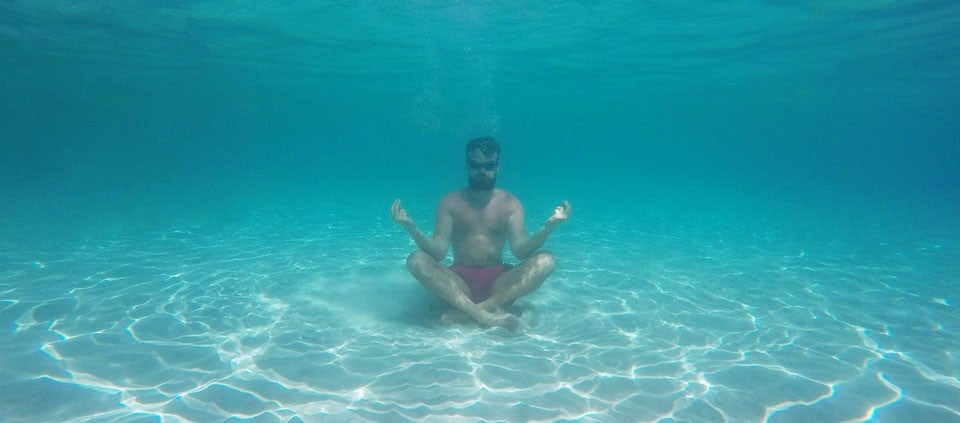 If you like your yoga pure and simple, you're increasingly in the minority these days. Teachers are offering fresh takes on the ancient practice by integrating traditional, on-the-mat yoga with an ever-widening range of other experiences.
The most intuitive hybrids are the ones that blend yoga with physical fitness—like Koga (yoga plus kickboxing), yoga on a trampoline or stand up paddleboard, yoga with a hula hoop, yoga boot camps, yoga crossed with capoeira—and our own Kripalu YogaDance®. Aqua yoga, done in a swimming pool, is a good fit for pregnant women and those with limited mobility. Rope yoga is a new take on aerial yoga: You're suspended from a rope attached to a wall rather than a sling fixed to the ceiling. Yoga Booty Ballet, created by Gillian Marloth and Teigh McDonough, offers a sweaty workout followed by meditation. Breakti fuses break dancing and yoga, and Yollet gives yoga a ballet spin. If you're not a fan of hot yoga, you can try ice yoga, a new trend in the colder parts of the world.
Laughter Yoga aims to enhance the experience for those who look to their yoga practice for joy and well-being. The combo, which involves simulated laughter done on your own or in "Laughter Clubs," was conceived in 1995 by Madan Kataria, a medical doctor from Mumbai, India, who earned the moniker the "guru of giggling."
"Laughter, fake or real, stimulates the release of seratonin and endorphins in the brain, which helps us relax and feel more openhearted and alive," says Evelyn Gonzalez, a Kripalu Yoga and Laughter Yoga teacher. That leads to a whole range of benefits, including increased endorphins, increased oxygen intake and blood flow, improved blood vessel function, and lower blood pressure. You'll probably also laugh a lot while doing yoga with goats.
Then there's naked yoga, which isn't technically a hybrid since you're subtracting rather than adding something, but it definitely throws a few new ingredients into the mix (and gives new meaning to Half Moon pose). Naked Yoga School, which offers a weekly instructional video, claims that "Naked yoga helps to create a closer connection with the body, yourself, and your surroundings." According to the website Yoga Undressed, naked yoga originated with the Naga Sadhus, a sect of yogis in 8th-century India, for whom nudity represented renunciation of material objects and worldly ambition.
Yoga teacher and studio owner David Romanelli pioneered another win-win combination: Yoga and chocolate. With his college friend Katrina Markoff, founder of the company Vosges Haut-Chocolat, he created Yoga + Chocolate, combining truffles with Trikonasana. That led to his Yoga for Foodies series, in which Savasana is followed by a multicourse meal.
The newest buzz (so to speak) is around "beer yoga," in which practitioners hoist a longneck in each hand to tone their arms in Warrior II, or use mindful sipping to help them be more in the moment. At Yoga + Beer in Oregon, where classes are held in a handful of different breweries, students keep their craft beer of choice nearby and teachers encourage them to stay focused by "fully enjoying it and paying attention to the flavors." Alcohol consumption, yelling, and swearing are all encouraged at Rage Yoga classes, created by Canadian yoga teacher Lindsay Istace, who says that it was incredibly therapeutic to "have this space where I'm able to be super honest about my emotions."
Kripalu Schools faculty member Kari Harendorf knows a bit about yoga hybrids; in the early 2000s, she created and taught Doga classes for yogis and their pups. When it comes to kooky hybrids, she cautions naysayers to keep an open mind: "Perhaps it will expose a whole new population of people, who might never have tried yoga otherwise, to its transformative power. There are a myriad of entry points to the realization of yoga."
© Kripalu Center for Yoga & Health. All rights reserved. To request permission to reprint, please e-mail editor@kripalu.org.