Online Program
Foundations of Ayurveda
Online Training
YOUR AYURVEDA JOURNEY STARTS HERE
The Foundations of Ayurveda 200-hour training is a dynamic, comprehensive exploration of the philosophy, theory, and practices of Ayurveda. This robust program has been thoughtfully designed and is equally enriching for those seeking to establish the first 200 hours of their professional 650-hour Ayurvedic Health Counselor training or 300-hour Ayurvedic Yoga Teacher Training, as well as for students interested in studying Ayurveda but not necessarily looking to make a career out of it.
Highlights of this training include:
In-depth theory of the doshas
Dinacharya—routines for health and well-being, such as care of the sense organs, sleep habits, and mindfulness practices—as it relates to circadian rhythms
An engaging, hands-on approach to Ayurvedic cooking, digestion, nutrition, and seasonal eating
Introductory Sanskrit
Ayurveda-informed yoga, meditation, and pranayama, and how these practices complement an Ayurvedic lifestyle
Ayurvedic psychology—exploring the power of the mind in creating balance and health.
Discover your own sources of wisdom through our integrated curriculum. The Kripalu approach provides a unique mix of didactic education and experiential sessions, making the study of Ayurveda an exciting exploration that leaves you feeling more connected to yourself, others, and seasonal rhythms. Continue to practice the teachings in your daily life through at-home study assignments between sessions.
---
Preview the Schedule
---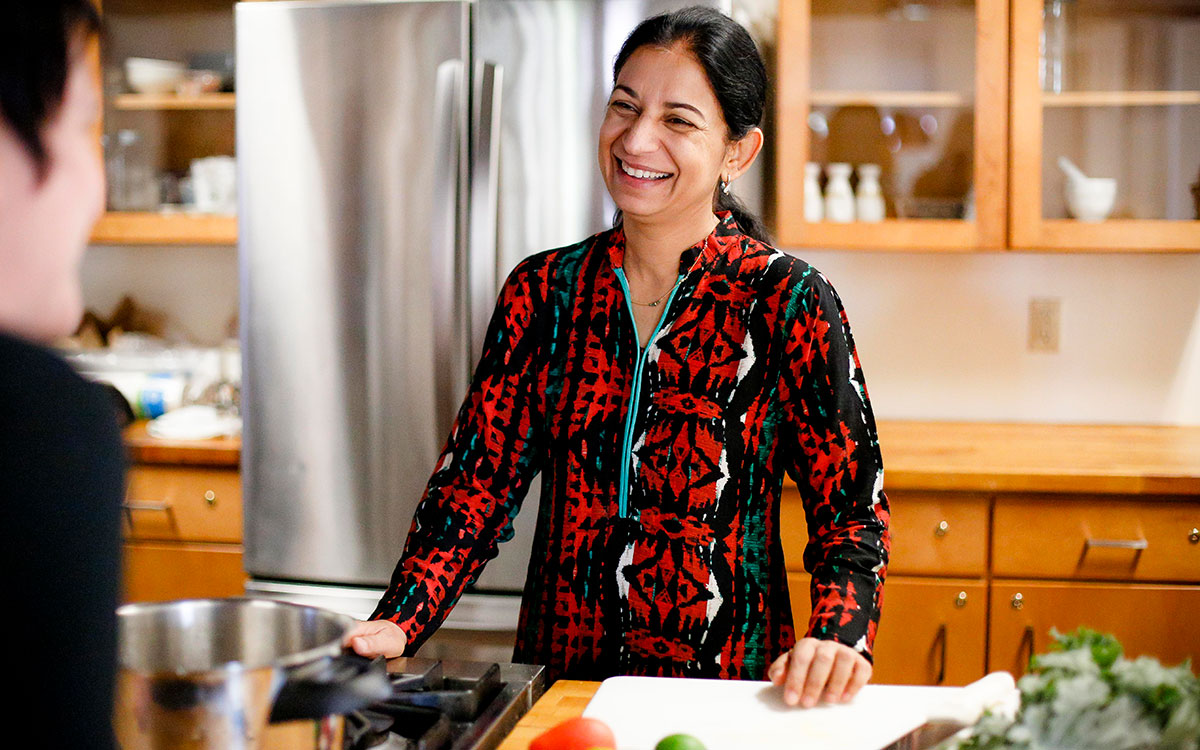 ---
Curriculum Breakdown
The course includes 200 contact and non-contact hours in the following areas:
| | |
| --- | --- |
| Ayurvedic History and Philosophy | 15 hours |
| Anatomy and Physiology for Ayurveda | 40 hours |
| Ayurvedic Digestion and Nutrition | 35 hours |
| Dinachayra—Ayurvedic Lifestyle Training | 25 hours |
| Psychology from an Ayurvedic Perspective | 25 hours |
| Sanskrit | 5 hours |
| Yoga and Ayurveda | 35 hours |
| Supervised Study and Review Sessions | 20 hours |
---
About the Application Process
Admissions to the programs are determined on a rolling basis. Given high program demand, and maximum number of students per training, we strongly recommend that applicants submit applications as soon as possible. We rely on information provided in the application to make informed decisions about your capacity to fully participate in and benefit from all aspects of the program. Please answer the questions honestly and completely. The Kripalu Schools do not discriminate in admissions, administration, or educational policies with regard to race, ethnic origin, gender, age, sexual orientation, creed, or religion.
Notes on your application:
Review information on program dates, costs, faculty, curricula, certification criteria, and general information about Kripalu on our website.
Complete the appropriate application for the program for which you are applying in its entirety, including the short-answer questions. Be sure to indicate your preferred program dates. Incomplete applications will not be reviewed. Kripalu reserves the right to require a phone interview or take other steps to supplement your application, if needed, in order to arrive at an informed admissions decision.
You will be notified of your admissions decision via email. If you do not have an email address, we will send your admissions decision by regular mail and also call you to inform you of your status.
If you are accepted in the training and the course you are interested in is full, you may register for the waitlist, which will remain open until the program's start, or you may register for any training date within one year of your acceptance.
---
Program at a Glance
Program Theme
Professional Training
---
Presenter(s)
From Kripalu Yoga teachers to Mindful Outdoor Leadership guides, our work is grounded in the Kripalu distinctive methodology, as taught by Swami Kripalu, whose very name means compassion.
Full Bio and Programs