Online Program
There are no upcoming dates for this program.
FOUNDATIONS OF YOGA THERAPY, PART 1
Integrative Yoga Therapy Professional Yoga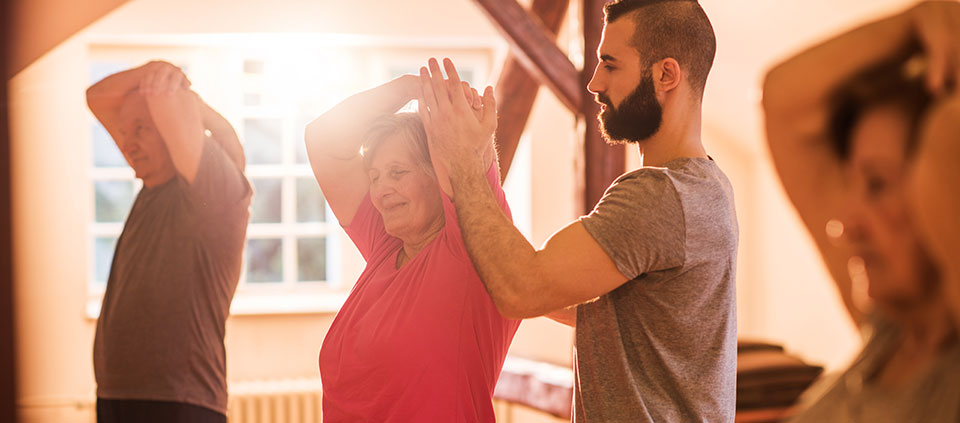 EXPLORE AN OVERVIEW OF THE YOGA THERAPY FIELD
Immerse yourself in one of the most established yoga therapy training courses available (now online!), focusing on the use of yoga as a true healing art. Yoga therapy can be applied in a wide variety of mainstream settings, including hospitals and health-care offices.
Learn the methodology specific to the Kripalu School of Integrative Yoga Therapy (KSIYT) as you explore
A strong biomedical and mental health foundation, including an introduction to current scientific research on yoga therapy
The philosophical underpinnings of the evolution of yoga therapy in India and in the West, as well as a survey of the various tools used in yoga therapy, such as asana, pranayama, mudra, yoga nidra, guided relaxation, and imagery

The Five-Kosha Model to describe all the dimensions of a particular health condition and aid students in developing a curriculum for a 10-week group series that they will be able to take and use at the end of the module

In-depth training in facilitating a group experience and in Conscious Communication, as well as the ethics and best business practices of teaching yoga therapy

Ways to manage their experience of personal transformation through self-development as a yoga therapist throughout the 800-hour training program.
This month-long online module introduces specific Integrative Yoga Therapy programs and sets you on the path toward certification.
Prerequisite Any 200-hour Yoga Alliance-registered program.
---
LIVE ONLINE INFORMATION SESSION AND Q&A
Wednesday, April 7, 8:00 pm EST
Curious about the training? Join our information session with the Kripalu School of Integrative Yoga Therapy faculty to learn about the 300-hour certificate and 800-hour certificate training programs.
---
Preview the Schedule
The month-long training meets online via Zoom. View the Schedule.
---
Program at a Glance
Yoga Experience
Min 1 year
Program Theme
Professional Training
---