Online Program
Kripalu Meditation Teacher Training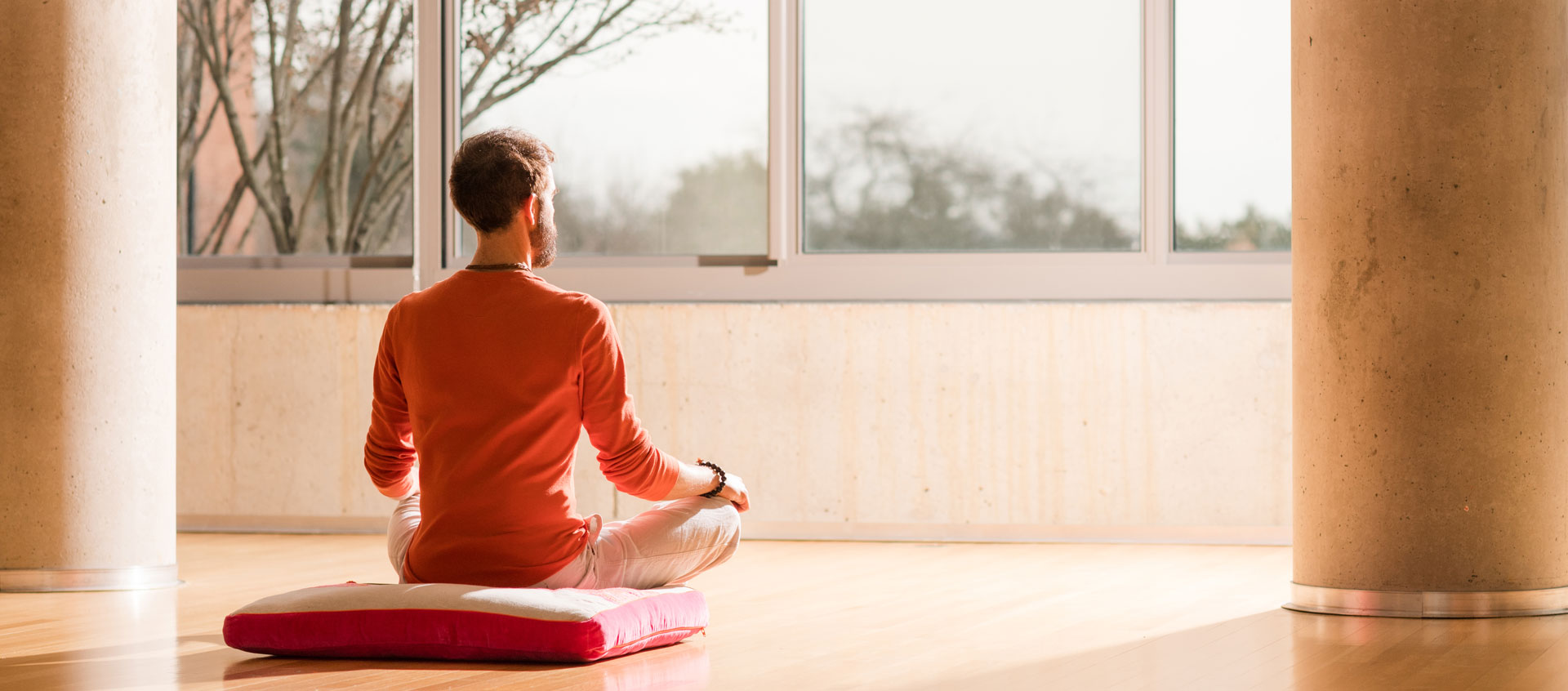 A THREE-MONTH HYBRID TRAINING

Deepen your meditation practice and share these transformational tools with others in Kripalu's latest certification program.
This training offers you the opportunity to join a committed cohort for an in-depth exploration of the Kripalu Approach to Meditation. In this training, designed for anyone wanting to share your passion with the world, you will gain
A solid foundation in technical skills
An understanding of core philosophical concepts
Broad awareness of the current scientific perspectives on meditation
The development of an empathic, intuitive approach to teaching
Kripalu's teaching methodology incorporates diverse tools and techniques to guide students on their personal journey toward teaching meditation. Complete this training with a versatile skill set anchored in the Kripalu tradition and emerge prepared to share your unique presence as a teacher to a wide variety of populations and environments.
Share the transformative power of mindfulness and meditation with your students, family, clients, or patients to help them discover newfound connection, focus, vitality, creativity, inner peace, and greater well-being in their everyday lives.
Prerequisite Applicants should have an established meditation practice of at least one year and should have a consistent practice for at least six months (i.e., 4 –7 times per week). Group facilitation experience is preferred but not required.
---
About the Curriculum
This is an experiential training, in which you will deepen your relationship with your personal practice and cultivate the knowledge, skill, and confidence to lead meditative experiences for others. Trainees will learn the Kripalu Approach to Meditation, explore contemplative practices drawn from the ancient traditions of yoga, and study how to apply them in a modern-day context.
As you become a certified meditation teacher, you will develop:
The core meditation techniques of the Kripalu tradition, including relaxation, awareness of the body and the breath, mantra and chanting, slow motion prana, yoga nidra, developing witness consciousness, and cultivating compassion
The Kripalu methodology for guiding contemplative practices
An integrated practice of movement, pranayama, and relaxation to enhance meditation and aid in exploring the crossroads of body, mind, and spirit
Simple yet effective tools to access to the yogic meditative states of dharana and dhyana
A grounded approach adapting traditional wisdom tools for modern practitioners
Conscious communication as a practice and a skill
Trauma-informed principles for adapting meditation and making it more accessible
Understanding of the evidence-based research supporting various meditation techniques
Insight into the broad spectrum of meditation approaches and their benefits
Skills in holding space for self-inquiry, guiding individuals and groups in practice, answering questions, giving talks, and designing classes
Tools and practices that apply mindfulness to day-to-day life, relationships, trauma, organizational culture, and societal change
A deeper connection to self, others, and spirit
A community of inspired peers—and thousands of Kripalu-trained teachers worldwide
---
Preview the Schedule
The Kripalu Meditation Teacher Training is a hybrid learning experience that combines online and in-person learning with self-guided practice and study. The program begins with six weekends of live online sessions, combined with one weekday evening online session, and culminates in a five-day in-person immersive retreat at Kripalu Center's campus in Stockbridge, Massachusetts. More information will be provided upon submission of your application. To become a certified Kripalu Meditation Teacher, you must attend all sessions, be engaged, demonstrate teaching competencies, and complete all homework and practice teach assignments.
---
About the Application Process
Admissions to the programs are determined on a rolling basis. Given high program demand, we strongly recommend that applicants submit applications as soon as possible. We rely on information provided in the application to make informed decisions about your capacity to fully participate in and benefit from all aspects of the program. Please answer the questions honestly and completely. The Kripalu Schools do not discriminate in admissions, administration, or educational policies with regard to race, ethnic origin, gender, age, sexual orientation, creed, or religion.
Notes on your application:
Review information on program dates, costs, faculty, curricula, certification criteria, and general information about Kripalu on our website.
Complete the appropriate application for the program for which you are applying in its entirety, including the short-answer questions. Be sure to indicate your preferred program dates. Incomplete applications will not be reviewed. Kripalu reserves the right to require a phone interview or take other steps to supplement your application, if needed, in order to arrive at an informed admissions decision.
You will be notified of your admissions decision via email. If you do not have an email address, we will send your admissions decision by regular mail and also call you to inform you of your status.
If you are accepted in the training and the course you are interested in is full, you may register for the waitlist, which will remain open until the program's start, or you may register for any training date within one year of your acceptance.
---
Program at a Glance
Yoga Experience
All levels
---
Presenter(s)
Monique Schubert, MFA and lead Kripalu faculty member, uses her 20 years of experience as an artist and educator to develop yoga and mindfulness programs for schools, workplaces, and cultural institutions.
Full Bio and Programs
Cristie Newhart, former Dean of the Kripalu School of Yoga, is a dynamic yoga teacher who imbues her classes with meditative inquiry, detailed alignment principles, and playful humor.
Full Bio and Programs