On Campus Program
The Kripalu Silent Retreat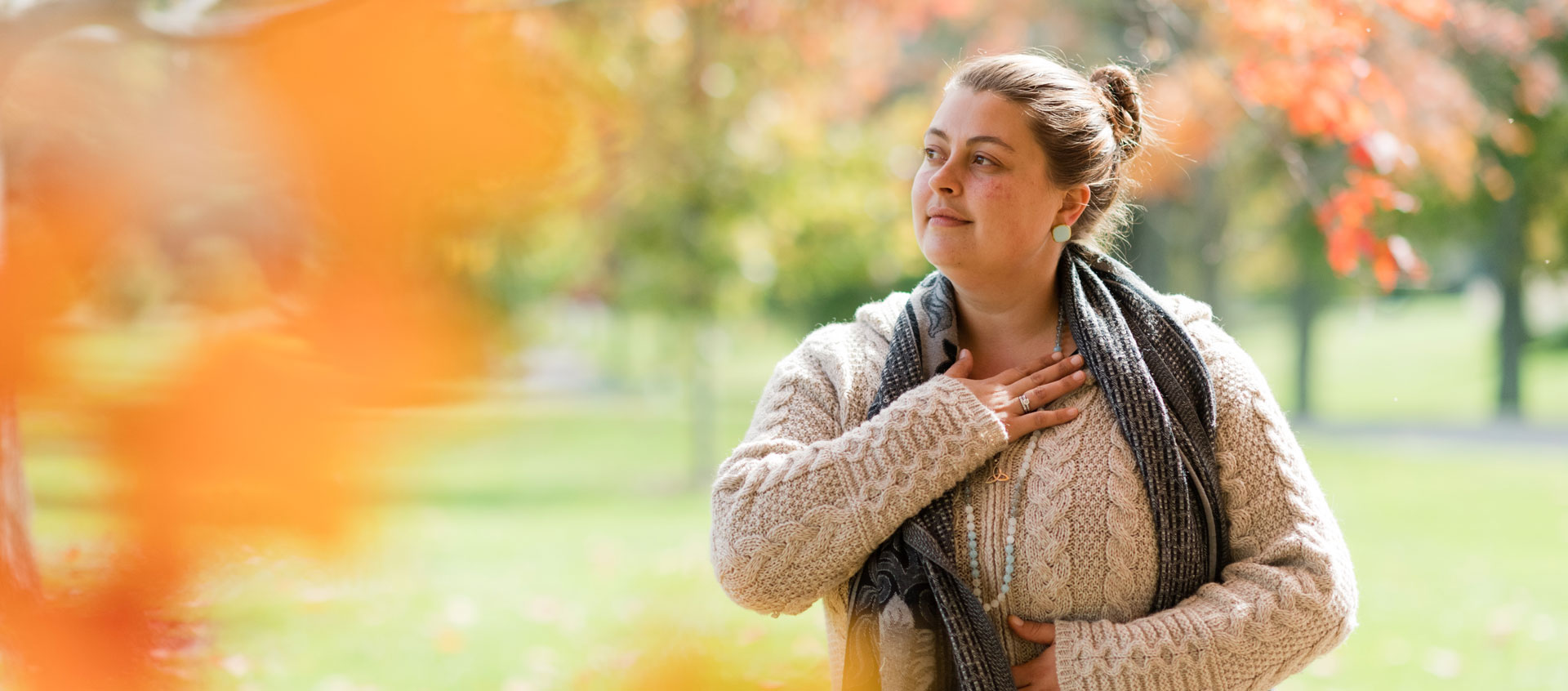 THE GIFTS OF SILENCE AND CONNECTION—IN OUR MOST POPULAR RETREAT
"This program is a gentle, welcoming, holding experience. You will see and experience yourself in new ways that will bring you amazement, love, compassion, and kindness."
—Program participant
It's easy to become bombarded with constant sound, mindless chatter, and ceaseless distraction in our everyday lives. What happens when you step away, slow down, and enter the sanctuary of quiet?
Join Kripalu faculty members Jess Frey, Erin Casperson, and Edi Pasalis for a three-day or five-day mid-week retreat on the Kripalu campus in which they guide you through the doorway of silence to cultivate present moment awareness.
Through embodied meditations, guided mindful movement, small group inquiry and sharing, journal explorations, and nature-based practices, you will learn how to
Observe your experience without judgment
Attune to the subtle flow of existence both inside and out
Listen and connect to the wisdom and truth within you
Deepen your awareness and open to the fullness of life.
Rediscover the gifts of the present moment and return home to a more intimate relationship with your life.
Note Silence will be encouraged throughout this entire retreat, including meal times, except during structured short lecture, small practice group meetings, and Q&A sessions. Please note the rest of the Kripalu campus will not be in silence which means other guests will be speaking and communicating.
Note Please bring outdoor clothing appropriate for cold weather conditions as portions of this retreat include outdoor programming.
---
KRIPALU SIGNATURE
This program—developed and led by our own faculty with the Kripalu methodology in mind—is offered exclusively at Kripalu.
---
Included in Your Stay
| | | |
| --- | --- | --- |
| Daily Yoga Classes | 3 All-Natural Meals | Access to the Kripalu Grounds |
---
---
Kripalu Sangha Chats: Sharing Wisdom & Community Care
---
Presenter(s)
August 21–26, 2022
September 16–18, 2022
October 16–21, 2022
December 11–16, 2022
January 1–8, 2023
Jess Frey, E-RYT 1000, is a Kripalu Yoga educator, life coach, and artist known for her authenticity, motivation, and depth.
Full Bio and Programs
August 21–26, 2022
October 16–21, 2022
October 28–30, 2022
December 11–16, 2022
January 1–8, 2023
Edi Pasalis has been learning, growing, and serving through yoga for over 25 years. Prior to becoming a lead faculty member at Kripalu, Edi spent a decade on the Kripalu Leadership team which helped birth RISE™.
Full Bio and Programs
September 16–18, 2022
Erin Casperson is lead Kripalu faculty and the former dean of the Kripalu School of Ayurveda.
Full Bio and Programs