On Campus Program
Yoga, Body Image, and Activism
Redefining Personal Power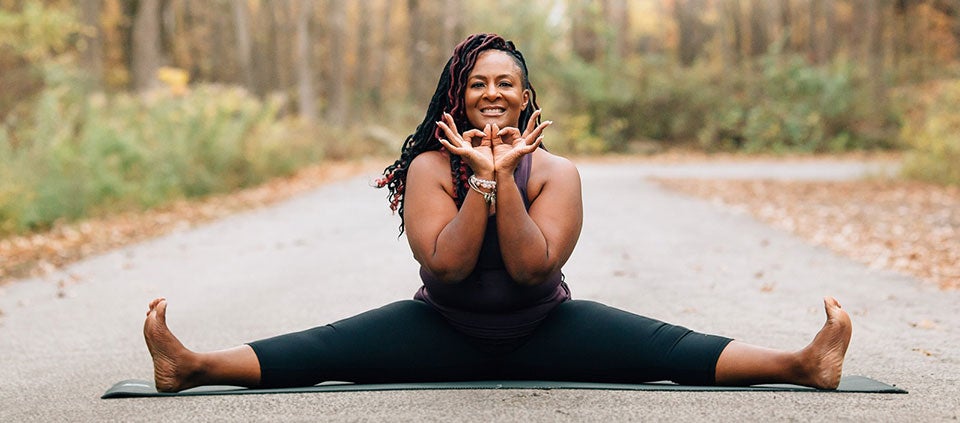 "Yoga for all is about breaking down the barriers that keep us from noting our true greatness. Yoga is in all of us and is for all of us; it is time to make so."—Dianne Bondy
This summer, join social justice activist, author, and accessible yoga teacher Dianne Bondy for a weekend program on the Kripalu campus. Learn how to deconstruct the values, norms, and perceptions that guide our current western view of yoga, beauty, and success. Dianne's inclusive approach to yoga empowers anyone, regardless of their shape, size, ethnicity, or level of practice, to engage with the practice.
Through in-depth and open forum discussions, practical hands-on asana labs, and interactive yoga practices explore
An Introduction to Yoga, Diversity, and Body Image
An engaging

conversation that delves into the topics of yoga, diversity, and body image.

Racism and You: Redefine Your Understanding


Begin to unpack social messaging and socialization around body image using practical methods and strategies that you can easily employ in everyday life. Learn how to reclaim a more powerful understanding of who you are and how you show up in the world.

The Art of Self-Inquiry and Compassionate Self-Study


Explore the concept of wellness for all, by decolonizing the wellness industry so that we can reach broader populations. Learn how to be kinder to yourself, while employing new tools that help to make wellness and health a priority, regardless of any outstanding circumstances. Find out how you can facilitate a collective embodiment of health and wellness.
Finish the program with a set of tools and strategies to help you expand your knowledge of accessible wellness among diverse populations all while taking better care of yourself in order to leave a positive impact on your community and the world.
---
Included in Your Stay
| | | |
| --- | --- | --- |
| Daily Yoga Classes | 3 All-Natural Meals | Access to the Kripalu Grounds |
---
Program at a Glance
Yoga Experience
All levels
Suitable For
Practitioner
---
Presenter(s)
Dianne Bondy is a celebrated yoga teacher, social justice activist, spokesperson for diversity, and leading voice of the Yoga For All movement.
Full Bio and Programs