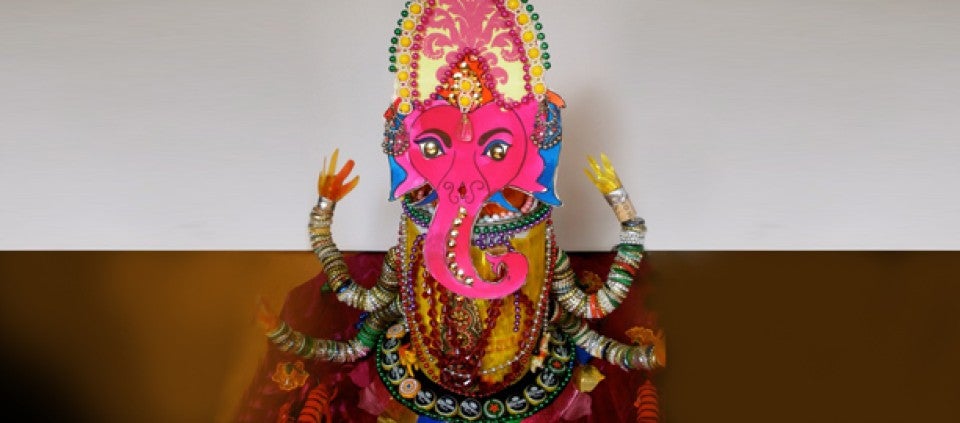 Creative Corner: Ganesh, The Remover of Obstacles
Karen Arp-Sandel is a Kripalu Yoga teacher and presenter of the Vibrant Visionary Collage Program at Kripalu. Below, Karen shares her inspiration in creating this Ganesh.
Inspired by all things Ganesh and Bollywood, I found myself creating this fun folk art icon after teaching my Vibrant Visionary Collage program at Kripalu. It is a mixed-media assemblage constructed as a collage in three dimensions with re-purposed, recycled materials. Ganesh, the deity known as "the Remover of Obstacles," became a very powerful figure for me after I participated in a wonderful mantra chanting workshop during Kripalu's Annual Yoga Teachers Conference.
My Ganesh, who is sitting upon a grand lotus, is surrounded by animals of power and colorful flower lights that add illumination to his shrine. I am fascinated by the archetypal shrine and sacred icon as subjects in my collage art, because they can be universally found. I love the folk art tradition for the way it harmonizes the sacred and the profane for everyday enjoyment.
© Kripalu Center for Yoga & Health. All rights reserved. To request permission to reprint, please e-mail editor@kripalu.org.
Kripalu's creativity programs invite you to tap inner resources of color, words, sound, and music.
Explore