Establishing Safety: A Guide for Yoga Teachers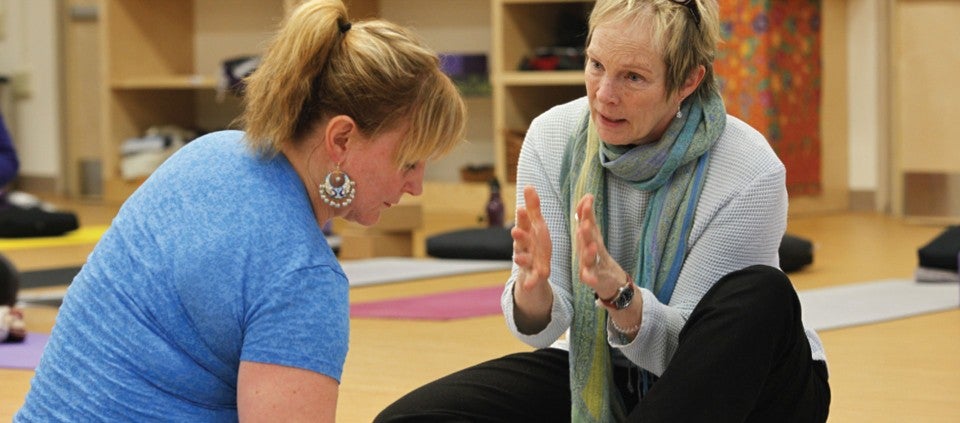 Every time we ask our students to learn something new, we are asking them to enter into the unknown. By anticipating the physical and psychological discomforts that arise during the learning process, we can promote a sense of safety, support, and encouragement.
For each new posture we are about to teach, it's important to take care of the part of our students' minds that needs security. The brain's limbic system, located at the base of the brain stem, works to safeguard our experience by constantly monitoring the environment for changes in temperature, light, proximity of other objects or beings, duration of events, and the rhythm and speed of elemental forces around us. This part of our brain is also called the "reptilian" brain, and its job is to create security.
In order to be able to let go and relax into any kind of new experience, the reptilian brain must be assured that survival of the organism is not endangered. On a practical level, this is essential information for the yoga teacher, who wants to create a mood in which the mind can let go of its usual problem-solving, critical-awareness functions. The extent to which our bodies are externally uncomfortable or our minds are agitated and insecure directly affects our state of relaxation.
Here are some ways you can create security in your class.
Environment
The yoga class begins the moment the students enter the room. Every detail of the environment is a part of the yoga experience. If the intention of yoga is to create harmony among body, mind, and spirit, then it is equally important to promote harmony between individuals and their environment.
The care and attention you put into structuring the ambience of a class is a large part of your task as an instructor. Asking yourself the following queries can greatly enhance the experience you wish to create:
Is the lighting comfortable and inviting? When a room has only fluorescent or harsh overhead lighting, it's a good idea to bring a lamp or candles to soften the ambiance.
Is the air fresh and clean-smelling? Arrive early enough to air out the room and adjust the temperature. Burning a moderate amount of incense before the students arrive can add a meditative quality to the mood. However, too much strong-smelling incense can be irritating.
Is the music soft and soothing? Music is one of the most potent ways to create an environment conducive to relaxation. Choose your audio with regard to the mood you want to create: slow, deep, and relaxing; mellow, carefree, and lighthearted; or pensive, calming, and meditative. Sometimes, the best background is silence.
Is the floor surface clean and comfortable? One of the most important criteria is that the floor be clean. Bring extra mats for new students or those who do not have their own. Arrange to have the floor cleaned before each class, or arrive early enough to do it yourself.
Are there other activities happening near the classroom? If so, make any possible prior arrangements so that your class time is free from any distracting noises.
Interacting with a Group
Be aware of
Your ability to listen
The energy and mood of the group (i.e., tired, wired, playful, rebellious)
Respecting/being sensitive to various differences in the group (female/male, old/young)
Dialoguing versus trying to fix
Creating space for questions and reactions
Staying open to your own learning process
Reinforcing empowerment through interactions versus having your students become dependent on you
Letting go of giving "correct" answers
Keeping agreements (such as starting and ending class on time).
Interacting with Individuals
How you interact with individuals in the group impacts their experience. Find out what your students' needs are, and do your best to meet them. Let your students be a vehicle for you to practice sensitivity to others. Walk your talk.
Find out about upcoming Kripalu School of Yoga trainings with Sudha Carolyn Lundeen.
© Kripalu Center for Yoga & Health. All rights reserved. To request permission to reprint, please email editor@kripalu.org.
Sudha Carolyn Lundeen, RN, E-RYT 1000, Kripalu Legacy Faculty, works with clients privately and leads workshops internationally. Her Kripalu Gentle Yoga DVD has won three prestigious awards.
Full Bio and Programs