The Healing Power of Art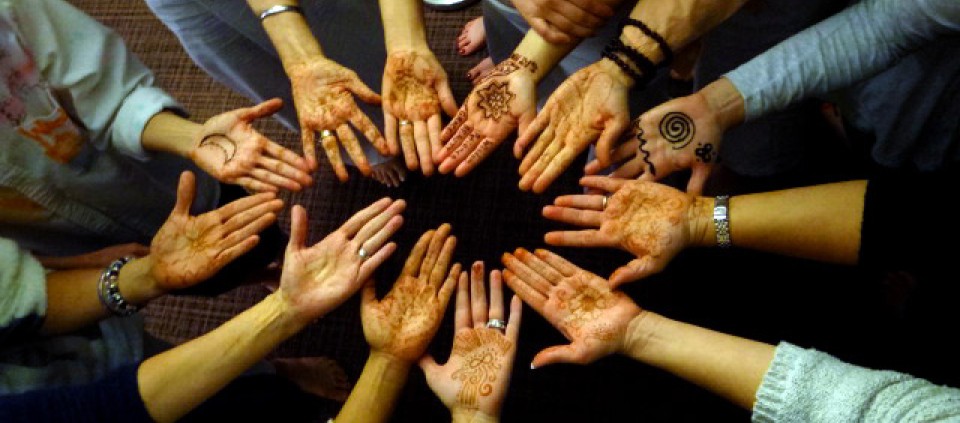 by Krupa Jhaveri
I am the founder and director of Sankalpa: Art Journeys, an organization in south India offering art therapy and creative empowerment programs to village youth and women. Sankalpa means intention, affirmation, willpower, and determination. Our mission is twofold: To provide a safe and supported space for open creative expression,
encouraging self-awareness and insight reflected from the art-making process; and to facilitate art exchanges between individuals and groups around the world, to bridge barriers and explore transformation through connection.
In 2007, I attended a New Year's retreat with Hari Kirin Kaur Khalsa, exploring art and Kundalini Yoga. The retreat was inspirational during my personal journey into art therapy, helping me find ways to incorporate meditation, yoga, and intention into the creativity I facilitate. When I heard Hari Kirin was offering an art and yoga teacher training course at Kripalu last fall, I applied for and received a Kripalu scholarship that allowed me to attend the program.
I was humbled and inspired by the experience, especially by sharing space with a diverse group of inspiring women, each on their own spiritual path. Within a few days, we cocreated a memorable and magical performance/exhibition. I had the opportunity to share the ancient art of henna, along with mudras and kriyas related to the hands. There were many poignant moments of self-awareness and connection to others that emerged throughout the course of the training.
It had been five years since my last visit, and it was fascinating to see the expansion and changes at Kripalu in response to the significant increase in yoga's popularity. With the contrast of my much simpler life in India, I experienced an overwhelming sense of gratitude for the abundance surrounding me throughout my stay.
Now that I'm back home, I'm continuing to incorporate what I've learned into my work with Sankalpa. In one project with the children of Edyanchavadi village, we did body-awareness meditations in Savasana, and body tracings, inspired by one of Hari Kirin's experiential activities. I have found ways to include meditation and yoga as a complement to creative activities such as crafting affirmation dolls, drawing portraits, painting mandalas, and making recycled jewelry.
It would not have been possible for me to attend this training without the scholarship. I was in the United States visiting family and presenting my work after more than a year, so it was a rare and wonderful gift to be able to participate. I would like to express my heartfelt gratitude to Kripalu and its scholarship program!
Krupa Jhaveri, BFA, MPS, is an international art therapist and art director who studied at Parsons School of Design and the School of Visual Arts in New York City. Born in the United States and of Indian ethnic origin, she travels between the two countries creating bridges among cultures, identities, resources, and opportunities.
© Kripalu Center for Yoga & Health. All rights reserved. To request permission to reprint, please e-mail editor@kripalu.org.