Healing Trauma with Yoga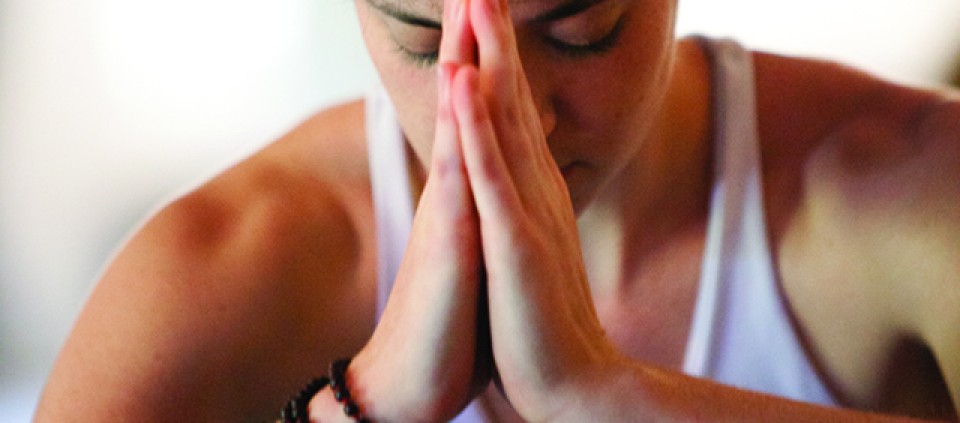 On Monday, December 16, 2012—exactly two days after the tragic shootings at Sandy Hook Elementary—I stood outside the doors of Pittsfield High School (PHS) in Pittsfield, Massachusetts. As I waited for the receptionist to buzz me in, I wondered what to expect in my high school yoga class that morning.
I was still reeling. My niece and nephew attend elementary school in Newtown, Connecticut, and, over the past few days, I had heard stories of unthinkable events. I had heard my sister's grief as she struggled to get her son to open up. I had felt my niece's fear, and witnessed her struggle to make sense of what had happened. Making my way to the yoga room that morning through unusually quiet halls, I was painfully aware of my vulnerability, and unsure if I could maintain my composure enough to lead the yoga class.
At PHS, where I teach as part of the Kripalu Yoga in the Schools (KYIS) program, we're fortunate enough to have a dedicated yoga space where we can turn off the fluorescents lights in favor of softer lighting, and set up the mats in a circle, creating an environment that is distinct from their academic classes. An important principle of the program is fostering an environment of support and nonjudgment, a safe space in which students can explore their physical sensations, thoughts, and feelings.
I had turned on the lights and begun setting up the room when Lisa Hoag, Physical Education Department Chair at PHS and a champion of KYIS, walked in. She told me that trauma counselors would be brought in to address the students directly, so faculty were asked to keep any conversations on the topic brief and general. The intention was to prevent the students from ruminating, and to avoid an atmosphere of fear within the school. This was a relief to me, as I had been deliberating over how best to address the situation with my class.
The bell rang, and students began to file into the room, taking their places on their yoga mats. The usual chatter and rambunctious activity was noticeably absent. As I began the class, guiding students to settle into their bodies and connect with their breath, my voice was shaky, but I pressed on.
KYIS is designed to teach adolescents the foundational practices of yoga: breathing, postures, and relaxation. More important, the curriculum uses these practices as vehicles to help teens develop social and emotional skills, such as learning to recognize and manage their emotions, developing compassion for themselves and others, establishing healthy relationships, making responsible choices, and handling challenging situations skillfully.
On this day, it just so happened that the theme for the lesson was interconnectedness. We would spend the time exploring partner poses, designed to build community and interdependence within the class. I told the students that this would be a chance to lighten the load that we'd all been carrying the past few days.
As the students paired off, I could sense their reticence. We started with a partner version of Tree pose, and I instructed them to lean on and support each other. As we progressed through the sequence, I could feel a gradual shift in the room. The new experience of partner poses allowed them to step out of their comfort zone, let go of their fears, and become fully present in the moment. As they gained trust in making physical contact with their peers, they also became completely absorbed in the playful aspect of the practice. I was witnessing something profound: They we able to get out of their heads, open their hearts, and act with kindness. Within a few minutes, the energy in the room was transformed from somber heaviness to giddiness to lighthearted glee as they released the stress they'd been holding. They were literally falling on the floor laughing!
We always end class with five minutes of guided relaxation, and today the theme for this experience was loving-kindness. Again, I found myself grateful for this opportunity. Loving-kindness practice, in which one states a series of positive affirmations directed toward oneself and others, is a tool for cultivating compassion, acceptance, and healing, contributing to individual and collective well-being within a school community.
The students relaxed on their backs and took in my heartfelt words: "Bring your attention to everyone in this room right now, silently sending loving-kindness to everyone around you using the following affirmations: 'May you be happy. May you be healthy. May you be at peace.' Next we sent loving-kindness toward the entire Pittsfield High School community. Finally, we sent our loving-kindness to students everywhere: 'May all students everywhere be happy. May all students everywhere be healthy. May all students everywhere be at peace.'"
Life is certainly not perfect—far from it. Yet even in the most unfortunate moments, grace can be found. Our 35-minute yoga practice had helped us manage our emotions, lean on each other for support, cultivate compassion, and, ultimately, handle the stressful situation we found ourselves in. After witnessing the dramatic change in the PHS classroom that day, I'm convinced that yoga can be a powerful tool for overcoming traumatic experiences. I've decided to enroll in a trauma-sensitive yoga training that will prepare me to offer this healing and transformative practice to trauma survivors.
Find out about Kripalu Yoga in the Schools Teacher Training.
© Kripalu Center for Yoga & Health. All rights reserved. To request permission to reprint, please e-mail editor@kripalu.org.
Janna Delgado, E-RYT 1000, Kripalu faculty member and curriculum developer for the Kripalu Yoga in the Schools program, is a facilitator and trainer for RISE™, an evidence-based program in conscious leadership.
Full Bio and Programs