Kripalu Faculty Recipe: Healing Turmeric Milk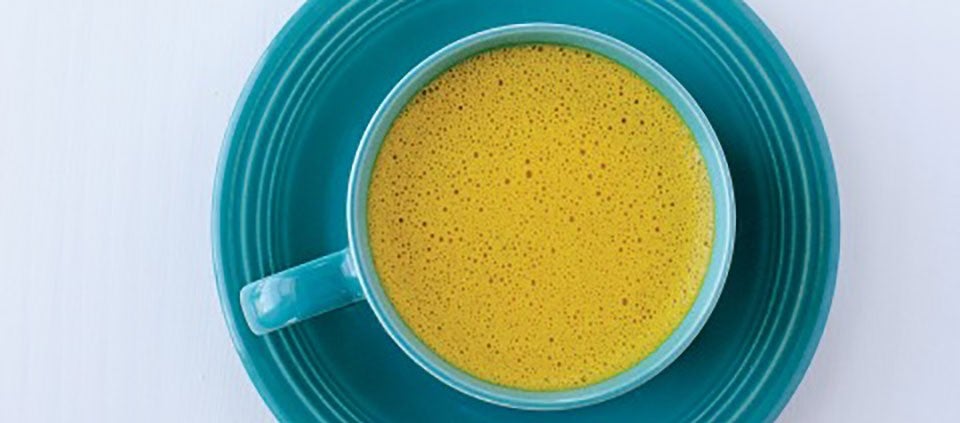 Also known as "golden milk," this evening tonic is well known in the yoga and Ayurveda traditions for a long list of benefits, namely as an anti-inflammatory, bone nourisher, and immune booster. This synergistic combination of turmeric, coconut, ginger, and pepper is supported by ancient knowledge and by modern research as well. You will find it not only healing, but also comforting.
If you think drinking an entire cup of milk, even warm and spiced, is a bit heavy, use half milk and half water. This golden milk is perfect for evenings when you get home too late for a meal or have a light appetite.
1 cup whole cow's milk or almond milk
1 teaspoon turmeric
½ teaspoon ground ginger
1 teaspoon coconut oil
Pinch of black pepper
½–1 teaspoon raw honey (optional)
In a small saucepan, warm the milk, uncovered, over medium-high heat for 2 to 4 minutes, or until you see steam rising out of the pan. Add all the other ingredients, except the honey, and whisk by hand or with an immersion blender until combined.
Pour into a mug, sweeten with honey (if using), and drink immediately.
From The Everyday Ayurveda Cooking for a Calm Clear Mind © 2018 by Kate O'Donnell. Photograph © 2018 by Cara Brostrom. Reprinted by arrangement with Shambhala Publications, Inc. Boulder, CO. shambhala.com
Kate O'Donnell is the author of four books on Ayurveda cooking and lifestyle, including bestseller The Everyday Ayurveda Cookbook.
Full Bio and Programs