Kripalu Recipe: Anise Cumin Rubbed Salmon & Fennel Parsley Salad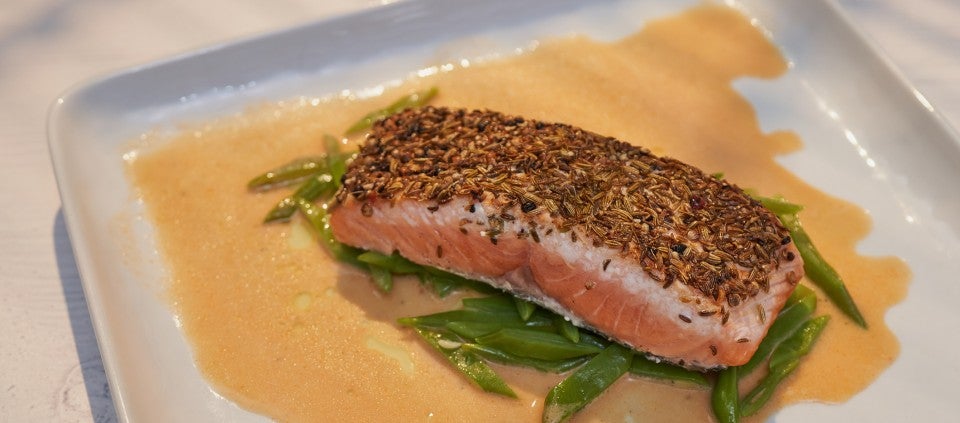 Treat yourself to a healthy, delicious salmon salad enhanced with cumin, fennel and parsley.
1 tablespoon fennel seeds
1 teaspoon cumin seeds
Zest and juice of one lemon
4 4oz skinless or skin on salmon fillets
1 tablespoon plus 1 teaspoon Dijon mustard
2 tablespoons extra-virgin olive oil
1 fennel bulb, halved and thinly sliced
1 cup flat leaf parsley roughly chopped
Salt and freshly ground pepper
In a spice grinder or mortar and pestle, grind the fennel seeds, cumin seeds and lemon zest until finely ground. Season the salmon with salt and pepper, using the 1 tablespoon of mustard brush the top of each fillet then coat with the ground spice mixture. In a large bowl, whisk the lemon juice with the remaining 1 teaspoon of mustard and 1 tablespoon of olive oil. Season the dressing with salt and pepper. Add the sliced fennel and parsley leaves and toss.Grill the salmon: We will cover technique in the live class. Serve with salad.
Jeremy Rock Smith, Kripalu faculty and a graduate of the Culinary Institute of America, began his career in classical French cuisine.
Full Bio and Programs