Kripalu Recipe: Gluten-Free Chocolate Peanut Butter Bars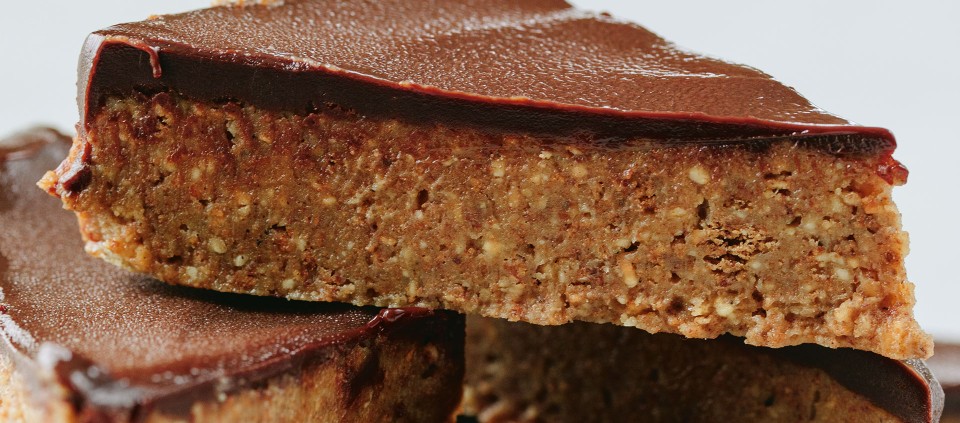 The Kripalu Bakery staff knows that, like many people, I love the combination of chocolate and peanut butter. They nailed it in this take on a popular treat. You really need only one because the layers of crushed graham crackers, sweetened peanut butter, and dark chocolate ganache taste so intense together. Just be sure to serve these bars cold. They start to melt when warm.
Ayurvedic Insight: Guests absolutely adore these chocolate peanut butter bars. They are very dense and rich, so are best enjoyed after the lunchtime meal. A sprinkle of powdered ginger over the top will help you digest them. Makes 24.
Peanut Butter Filling
1 2/3 cups (3 sticks plus 3 tablespoons) unsalted butter, melted, plus some for greasing the pan
2 ½ cups peanut butter, creamy or crunchy
½ cup pure maple syrup
2½ cups coarsely crushed gluten-free graham crackers
Ganache Topping
1/3 cup heavy cream
3 tablespoons pure maple syrup
]7 ounces bittersweet or semisweet chocolate, finely chopped (or 1 cup chocolate chips)
1. For the peanut butter filling, lightly butter a 13 x 9-inch baking pan and set aside.
2. Put the peanut butter in a large mixing bowl. You can mix by hand or in a machine on medium-low speed. Mix the melted butter and maple syrup in a medium bowl, then gradually add the butter mixture to the peanut butter, stirring until everything is combined. Fold in the crushed graham crackers and pour the filling into the prepared pan, spreading it evenly to the edges. The filling will be somewhat loose.
3. Chill the filling until firm, about 1½ hours in the refrigerator or 45 minutes in the freezer.
4. For the ganache topping, combine the cream and maple syrup in a small saucepan and bring to a gentle simmer over medium heat. Remove from the heat and mix in the chopped chocolate, stirring until the chocolate is melted and the mixture is smooth. If the ganache appears a little grainy, stir in a little more cream until it is completely smooth and shiny.
5. Spread the ganache evenly over the chilled peanut butter filling all the way to the edges. Chill until firm, about 45 minutes in the refrigerator or 25 minutes in the freezer.
6. Cut into 24 pieces (2-inch squares). To cut cleanly, dip a sharp knife in very hot water until heated through, then dry thoroughly. Between cuts, dip the knife in hot water and wipe it dry. Serve immediately or cover and refrigerate for up to 2 days. Serve chilled, as the bars begin to melt at room temperature.
Excerpted from The Kripalu Kitchen by Jeremy Rock Smith with David Joachim. Copyright © 2019 by Jeremy Rock Smith. Excerpted by permission of Ballantine Books. All rights reserved. No part of this excerpt may be reproduced or reprinted without permission in writing from the publisher.
Jeremy Rock Smith, Kripalu faculty and a graduate of the Culinary Institute of America, began his career in classical French cuisine.
Full Bio and Programs