Kripalu Recipe: OMG Chocolate Cherry Cookies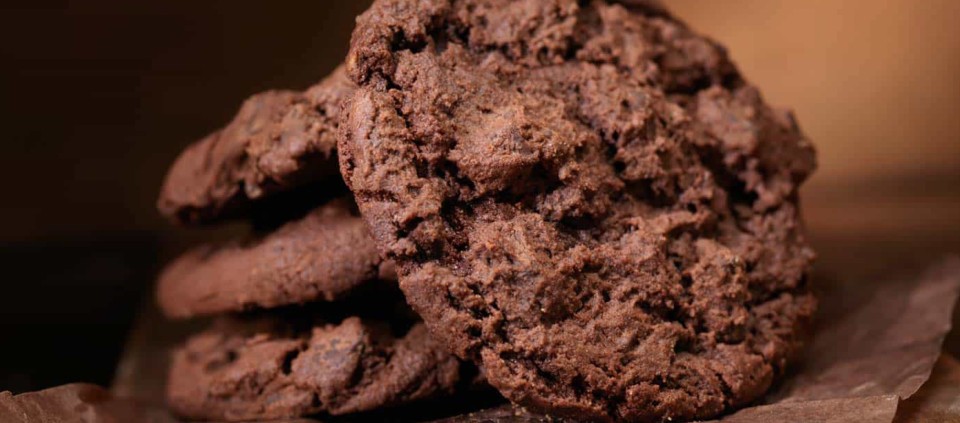 Kripalu's famous OMG Chocolate Cherry Cookie recipe revealed at last! This recipe yields 24 cookies (3-4 inches in diameter) at 1 ½ oz each.
Ingredients:
2 tablespoons flax meal
1/2 cup unsweetened applesauce
3/4 cup + 4 teaspoons sunflower oil
3/4 cup + 2 tablespoons organic cane sugar or coconut sugar
1 cup dark brown sugar or sucanat (a raw form of sugar)
1 ½ teaspoons vanilla extract
3/4 cup + 4 teaspoons cocoa powder
1 1/4 cups gluten-free oat flour
3/4 cup buckwheat flour
1 teaspoon baking soda
1/2 teaspoon salt
1 cup dried cherries, small chopped
3/4 cup + 4 teaspoons chocolate chips
Instructions:
Preheat oven to 350ºF.
In a small bowl mix applesauce and flax and let soak for 20 minutes. In a medium mixing bowl sift together, cocoa powder, both flours, baking soda, and salt.
In the bowl of a stand mixer or a large mixing bowl add sugar, sucanat or brown sugar, and sunflower oil. Mix on high for 5 minutes. Add flax meal and continue to mix on medium speed until smooth and creamy. Turn mixer speed to low and add the sifted dry ingredients a third at a time being sure to stop the mixer periodically to scrape down the sides of the bowl. Once flours are incorporated mix in chocolate chips and cherries on low until just combined.
Using a 1 ½ ounce ice cream scoop portion cookies and lay onto a baking sheet with parchment paper in rows that are 3 x4. Place in the oven on the center rack and bake for 12-14 minutes rotating the tray 180ºF once halfway through the cooking process.
Once cooked allow cookies to cool completely which will allow them to set.
Jeremy Rock Smith, Kripalu faculty and a graduate of the Culinary Institute of America, began his career in classical French cuisine.
Full Bio and Programs