Kripalu Recipe: Veggie or Chicken Pot Pie with Cornbread Biscuits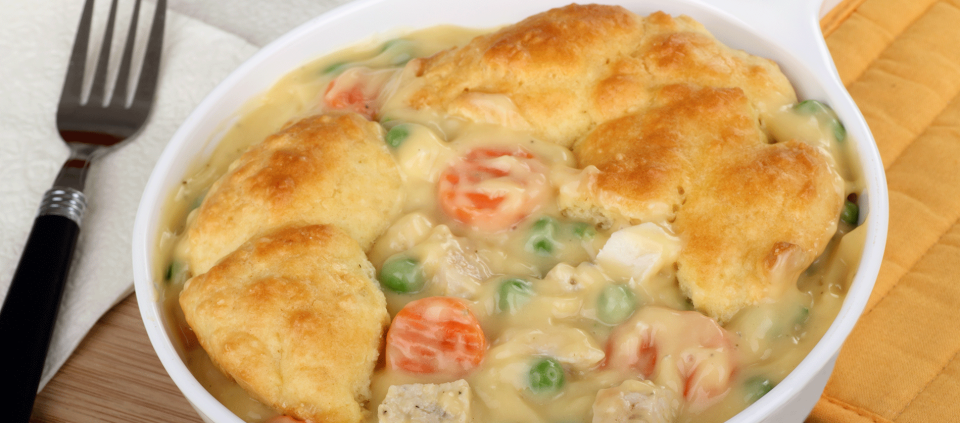 Start your ovens and get ready for a nutritious and classic fall meal.
Cornbread Biscuit Recipe
1 cup all-purpose flour or 1 cup gluten-free flour blend
1 cup fine-ground cornmeal
2 teaspoons baking powder
1/4 teaspoon baking soda
1 teaspoon coconut sugar
1/2 teaspoons salt
8 tablespoons butter, cut into 1/4" pieces and chilled
3/4 cup buttermilk or buttermilk alternative*
*mix in roughly 3/4 tablespoon white wine vinegar or lemon juice to milk or non-dairy milk to make buttermilk
Preheat the oven to 400 degrees.
Pulse the flour, cornmeal, baking powder, baking soda, and sugar in a food processor. Add butter pieces and pulse mixture until mixture looks like coarse cornmeal, don't sweat it if there are some larger chunks. Transfer the mixture to a medium-sized mixing bowl. Mix in buttermilk or milk alternative. The mixture will be somewhat sticky.
Form dough into a ball and place it on a lightly dusted flour work surface. Roll out dough until 1/2" thick. Cut with a biscuit cutter or leave long for pot pie.
Veggie or Chicken Pot Pie Recipe
6 tablespoons olive oil, butter or ghee
1 large onion, small diced
1 cup celery, sliced ½" thick
2 cups carrots, halved lengthwise, cut crosswise 1/2" thick
2 cups parsnips, halved lengthwise, cut crosswise 1/2" thick
1 pound red bliss potatoes, cleaned and then quartered
3 ½ cups butternut squash, peeled and 1/2" (if doing chicken version, reduce squash to 1 ½ cups)
1 1/2-pound cooked chicken breast, diced (optional)
1 teaspoon salt
4 teaspoons chopped garlic
1 cup frozen peas
5 tablespoons all-purpose flour or 1:1 gluten-free flour blend
3 cups vegetable or chicken stock
1 cup milk or dairy-free unsweetened alternative
1/2 cup grated cheddar cheese (optional)
2 teaspoons cider vinegar
1 teaspoon fresh thyme chopped or 1/2 teaspoon dry
2 tablespoons chopped parsley
Pinch of cayenne
1/2 teaspoon black pepper
Preheat oven to 350 degrees.
Melt 2 tablespoons of the butter/ghee or olive oil in a 3/4-gallon soup pot over medium heat. Add the onion, celery, and ¾ teaspoon salt and cook, occasionally stirring, until softened and beginning to brown, about 10 minutes. Add the carrots, parsnips, potatoes, and squash; cover and cook, occasionally stirring, until the vegetables soften around the edges, about 13 minutes. (If doing the chicken version, add the cooked chicken to the veggies after about 5 minutes.) Stir in the garlic and cook until fragrant, about 30 seconds.
Transfer the filling to a 9 by 13-inch baking dish. Sprinkle the peas evenly over the top and set aside. Wipe the soup pot clean and return to the stovetop. Melt the remaining 4 tablespoons butter/ghee or olive oil in a medium saucepan over medium-high heat. Add the flour of choice and cook, stirring, for about 1 minute. Gradually whisk in the 3 cups vegetable broth and the milk, bring to a simmer, and cook until the sauce thickens about 1 minute. Remove from heat and whisk in the cheddar (if using). Stir in the vinegar, thyme, parsley, and cayenne pepper and season with salt and pepper.
Pour the sauce over the filling and distribute evenly. Arrange the biscuits on top and bake until the biscuits are golden brown and the filling is simmering roughly 25–30 minutes. Allow to cool for 5 to 10 minutes before serving.
Jeremy Rock Smith, Kripalu faculty and a graduate of the Culinary Institute of America, began his career in classical French cuisine.
Full Bio and Programs