Maya Breuer Brings Roots, Rhythm, and Soul to Kripalu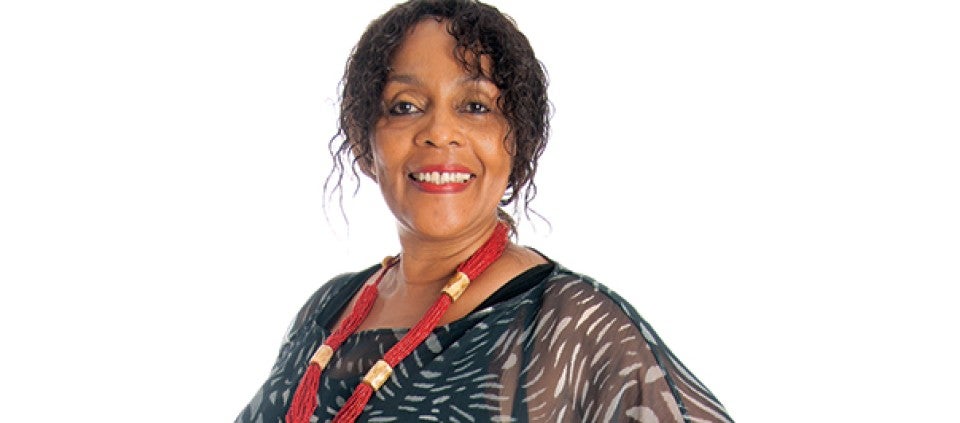 When Maya Breuer first discovered Kripalu in the 1980s, she felt as if she was home—"like I had been here before," she recalls. "The yoga and the compassion I encountered felt familiar on such a deep level that I intuitively knew this was a place where I could heal."
In the years since, Maya has visited Kripalu more than 150 times. She became a certified Kripalu Yoga teacher, served on the Board of Trustees, and traveled to Swami Kripalu's ashram in Gujarat, India. She has also been a major force in raising awareness and support for Kripalu's diversity efforts to bring yoga and other healing tools to people of color and to underserved populations.
Maya created the Yoga Retreat for Women of Color, which was first presented at Kripalu and is now offered annually at Kripalu and in Atlanta. Plans are in the works to bring the retreat to other major cities, including Detroit and Cleveland. "Many women who have participated in the retreat have now become certified yoga teachers and are bringing yoga into their communities," said Maya, who is also founder and director of the Santosha School of Yoga in Warwick, Rhode Island. "And the word is spreading internationally—I recently received a letter from Uganda from a woman who's planning to come to the retreat at Kripalu."
In 2007, Maya and Jana Long, owner of Power of One Yoga Center in Baltimore and also a Kripalu Yoga teacher, cocreated the first Roots, Rhythm, and Soul event. The weekend program was designed to further advance their mission to introduce yoga to populations who were not aware of the healing benefits of the practice. "Many minority populations suffer from chronic health conditions such as diabetes, hypertension, and obesity, which can be healed or managed with yoga, meditation, and lifestyle change—and these populations generally do not have access to yoga studios in their communities," Maya says.
Maya and Jana then reenvisioned the scope of Roots, Rhythm, and Soul as a weekend retreat for all people, and expanded the focus of the gathering to include diverse perspectives on yoga and spirituality, offered by a multicultural group of presenters who bring their indigenous perspectives to yoga and healing.
"We wanted to create a program that would attract people from all cultures to explore ancient and ancestral wisdoms, traditional healing practices, and ways of spirit—the diversity of paths that lead to one yoga—and Kripalu is the perfect place for this to happen," Maya says. The subtitle of the program—"The whole world is one family"—comes from a beloved saying of Swami Kripalu. "My foundation is Kripalu, which is compassion," says Maya. "After many transformations, Kripalu is still a place where compassion reigns and where one can come home to heal."
© Kripalu Center for Yoga & Health. All rights reserved. To request permission to reprint, please e-mail editor@kripalu.org.
Maya Breuer, E-RYT 500, is Vice President of Cross-Cultural Advancement for Yoga Alliance, cofounder of the Black Yoga Teachers Alliance, an Emerita Trustee of Kripalu, and creator of the Yoga Retreat for Women of Color™.
Full Bio and Programs