Planting Seeds of Self-Compassion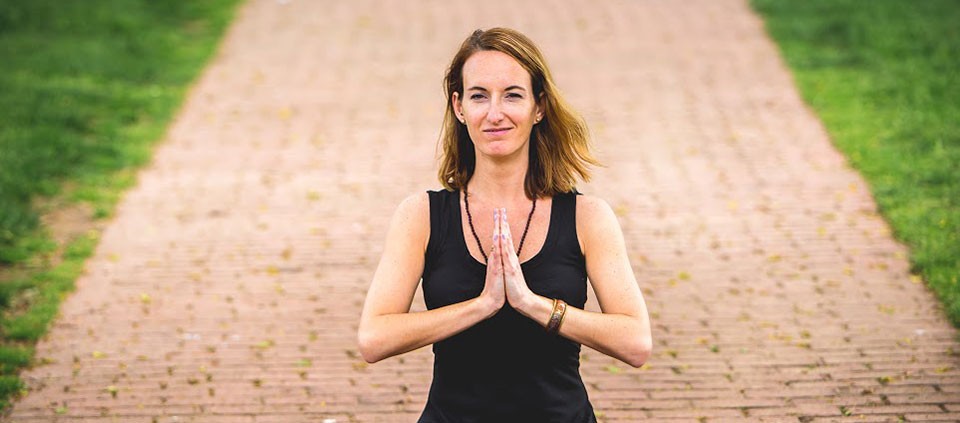 by Sara Dugas
Growing up as a Deaf woman, I intuitively knew the importance of connecting to my inner self, but I didn't know how. Yoga has become the key to that connection, helping me to accept myself along my journey.
I'm a trained social worker and first discovered yoga when I was working in a state psychiatric hospital, on a locked ward serving Deaf and hard-of-hearing people. It was an incredibly challenging environment and I needed a way to decompress when I arrived home at night. I watched yoga videos and copied the poses but, since they weren't captioned, I knew I was missing instructions about the breath. For the next 12 years, I tried to form a relationship with yoga through uncaptioned DVDs, books lacking live demonstrations, and yoga classes taught in spoken English that I couldn't hear.
In 2013, I made a job change from the highly restrictive setting of the state hospital to Advocates Deaf Respite, the first mental-health respite program established in Massachusetts designed expressly to support the Deaf and hard-of-hearing community. Working with my supervisor at Advocates, I began to develop goals for self-care. This led me to Kripalu for a weeklong yoga and fitness retreat. It was the first time I'd experienced yoga instruction with an American Sign Language (ASL) interpreter. It was a transformational experience. I had never had access before to information about how to combine the poses with breathing. I experienced a deeper sense of myself and a new sense of inner peace through this awareness of breath—it was such a simple element, and yet so powerful.
I was inspired to share the practice with others who don't have access to yoga in ASL, but as a Deaf person I was uncertain if it was possible to become a teacher and whether Kripalu would be open to accommodating me. Kripalu embraced my journey and I began to explore teaching yoga in ASL to a visual community. Certain experiences had to be "translated," such as the audible components of breath and meditating with a soft gaze instead of with closed eyes. Other aspects of yoga are naturally compatible to a visual community that communicates through movement, allowing me to offer a few suggested modifications at the beginning of each pose, then allow each person to practice at their own pace.
At Advocates, people come to us looking to increase their capacity for self-regulation and self-care, to learn tools for handling mental-health challenges and stress. I teach gentle Kripalu Yoga classes to the Advocates signing community (both hearing and Deaf), including people we support and colleagues. My teaching focuses on self-compassionate, nonjudgmental practice. The name of the class, See Me Yoga, comes from the complementary philosophies of Kripalu and Advocates, communicating the message that those who experience mental-health challenges need to be seen as people first. I have also shared yoga outside our organization with ASL interpreters, Deaf professionals, and Deaf survivors of domestic and sexual violence.
Members of the Deaf community often experience being left out of the loop, missing critical pieces of information or just generally left behind the curve. When a Deaf person practices in a spoken class, they don't have the same sense of connection as the people who can hear. In my class, where we strive to be sensitive to cultural and language barriers, I get to witness an inspiring experience of empowerment. My students have told me that they feel a sense of clarity about yoga practice that they've never had before. I'm seeing them start to get to know themselves better. At first, when they were in Savasana, for example, many of them would keep their eyes open and their bodies would fidget. Now, they're becoming more peaceful and more comfortable in the posture, as well as in the room. My students can take this learned self-compassion off the mat and out into a world in which they face the challenges of life as well as the unique experience of being Deaf.
I want to plant those seeds of self-compassion everywhere, regardless of a person's age, mental strife, physical abilities, or experiences with adversity. I want to help them take that first step on their journey of insight and self-acceptance.
Find out about the Month of Compassion at Kripalu.
© Kripalu Center for Yoga & Health. All rights reserved. To request permission to reprint, please email editor@kripalu.org.