Right Where You're Supposed To Be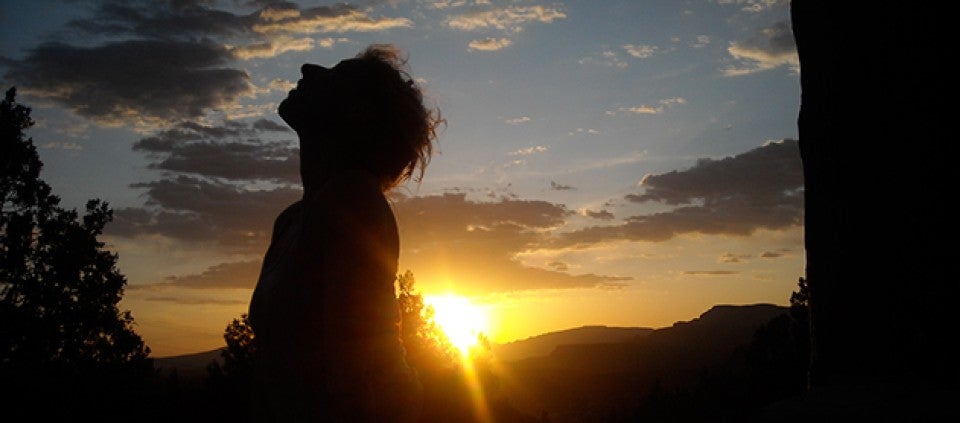 A few years ago, I moved from Massachusetts to Oregon. I had convinced myself that, in order to find happiness, I first needed to find a better place to live. Though I didn't realize it at the time, I was setting myself up for failure.
Settling into a new city was hard work, not to mention that I couldn't find a job. I practically needed a master's degree in coffee beans to even contemplate working as a barista. I struggled daily to make ends meet while feeling completely insecure in my new surroundings. My refuge became a hot yoga studio 40 blocks from my house that offered amazing deals for new residents (10 classes for $10). I'd ride my bike to the studio early in the morning and head home ravenous and soaked in sweat.
One morning, I said something to the studio manager about the program she was using to check people into class (I'd worked in administration and was familiar with this software). She immediately asked me if I was a yoga teacher. "Yes, I'm certified, but I'm not teaching at the moment," I replied. "Why don't you audition for us?" she exclaimed, bubbling with excitement.
The truth was that, since completing my yoga teacher training a few years before, I was haunted by a fear that if I were to become a real teacher, I might lose my inner practitioner. Since moving West, I hadn't considered teaching yoga for income. I'd spent years in New York City auditioning for shows while in acting school, but the thought of auditioning for a yoga studio made me sick to my stomach.
"Sure," I said regretting it immediately. "Great! Come Wednesday at 4:00 pm." "Okay," I replied, and darted into class to claim my tiny mat space.
I went home after class and began reviewing the poses and their Sanskrit names, memorizing alignment cues. I also thought of thousands of ways I could get out of auditioning. For the next week, every morning when I showed up for class, the studio manager reminded me of my upcoming audition and gave me a big smile. My fear was coming true: I was losing my identity as a student. But as much as I contemplated getting out of it, I couldn't turn down the offer. Here I was, desperate for a job, and being offered an opportunity in something I actually loved doing!
Over the next few weeks, I went through a series of auditions. I'd teach different parts of a series, followed by discussion and some feedback from the other teachers. The bottom line was that they liked my teaching personality and voice, but I wasn't teaching their style of yoga.
Thus, a week later, I found myself in a shopping complex 20 minutes outside of the city, taking a hot yoga teacher training. Accompanied by the scents from the 24-hour-a-day Vietnamese restaurant next door, I chugged though the series for the third time that day—and it wasn't even noon yet. All I could think to myself was: What am I doing here?
On day six of the 10-day training, I showed up at the studio feeling discontent, which seemed to be my normal morning state. The couple running the training sat in Lotus position at the front of the class and gave us a pep talk. "We want you to be confident teaching classes and we want you all to succeed. We understand that we're asking a lot from you and we just want you to know: You're exactly where you're supposed to be."
The words hit me like a slap across the face. I'm exhausted, unhappy, and I feel like I've lost my connection to yoga. I don't want to teach. I'm broke. What do you mean I'm exactly where I'm supposed to be? How can you say this when I've managed to find stress in the only place that's ever given me any real peace: my yoga.
Yet, during the next week, this phrase clung to me like a sweater. In the moments when I'd feel my body begin to fill with anxiety and discomfort, I'd hear the phrase you're exactly where you're supposed to be, and, for just that moment, I would feel okay. There are phrases I've resented while secretly holding onto them for dear life. What if these words were true? Did that mean everything was going to be okay?
I stayed in Portland for six more months and taught at the studio until the day I packed my car to move back East. I learned a lot that year. Sometimes we have to find out what we don't want in order to know what we do want. I knew I didn't want to be a full time yoga teacher. I also knew I didn't want to live in Portland. This discovery led me back to the Berkshires to reconnect with my roots. Rediscovering myself—my yoga, the arts, and nature—has given me an appreciation I never knew possible for a life I get to call my own.
The phrase you're exactly where you're supposed to be, along with many others I've heard before and since, still feels like a sweet mix of annoying sirens and music to my ears. Life is often uncomfortable, challenging, even bone- and heart-crushing. But we have an opportunity to hold the faith that we are always exactly where we are supposed to be. How often have you heard yourself or others say, "Of course I was right where I was supposed to be and it was awful! But it led me to where I am now." So if the words you're exactly where you're supposed to be make the hairs on your arms stand on end, keep up the good work. You're most likely living your life.
Samantha Cullen is an actor and yoga teacher who writes a blog, The Yoga of Cake.
© Kripalu Center for Yoga & Health. All rights reserved. To request permission to reprint, please e-mail editor@kripalu.org.
Samantha Cullen, RYT, is a certified yoga teacher and outdoor guide for Kripalu R&R Retreats and other Kripalu programs.
Full Bio and Programs