Vegan and Gluten-Free Recipes to Satisfy Your Sweet Tooth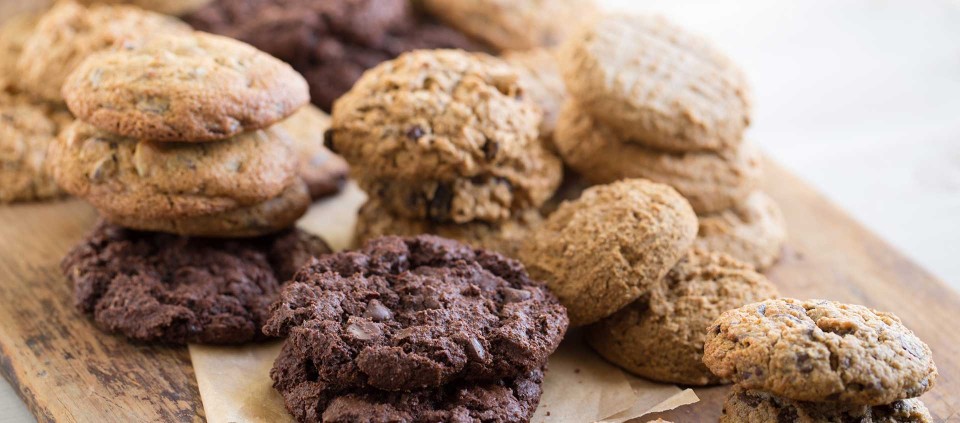 April 27, 2020
Like many of you, I'm spending a lot more time in the kitchen these days. I'm getting more creative with meal ideas, and loving the new tastes I'm discovering. That said, after trying a new Indian recipe or a veggie stir-fry with some inventive spice combinations, my sweet tooth goes, Hey! What about me?
Happily, I've discovered some quick, delicious dessert recipes with minimal ingredients. Here are a few of my favorites. Bonus: They're all vegan and gluten free, with no processed sugar—and mostly keto and paleo friendly as well.
Double Chocolate Cookies
When I discovered a bag of garbanzo bean flour in my cabinet, I did some searching and found this recipe. Don't taste the batter prior to baking—it needs the baking process to shift the bean taste—but trust me, after they come out of the oven, they are delicious! Plus, they provide a nice dose of protein and are a great pick-me-up snack. If you don't have premade garbanzo bean flour, you can take a bag of dried chickpeas and blend in the Vitamix until finely ground.
Chocolate Chip Chickpea Cookies
Here's a great recipe that uses canned chickpeas instead of chickpea flour. (If you're looking for a classic recipe, try the Kripalu Bakery's own Chocolate Chip Cookies.)
Keto Mint Chip Fat Bombs
The name might not sound appealing, but these treats from food writer Elana Amsterdam are chock-full of healthy fats, including nut butter and coconut oil. These are fun and super simple, with only a few ingredients.
Cinnamon Roll Mug Cake
To make this cake, stir the ingredients together in a cup and stick it in the microwave—it's done in less than five minutes!
The Best Chocolate Cake
This one is a bit more time consuming, but what I love about it is that it's made with sweet potatoes and avocados. (It needs to be refrigerated and won't keep as long as your average cake.) This recipe will leave you feeling well nourished, as it's packed with healthy, tasty ingredients.
May these yummy treats offer you a taste of what the yogis call sukha—the pleasure and sweetness of life!
Samantha Cullen, RYT, is a certified yoga teacher and outdoor guide for Kripalu R&R Retreats and other Kripalu programs.
Full Bio and Programs