Yoga and Paddling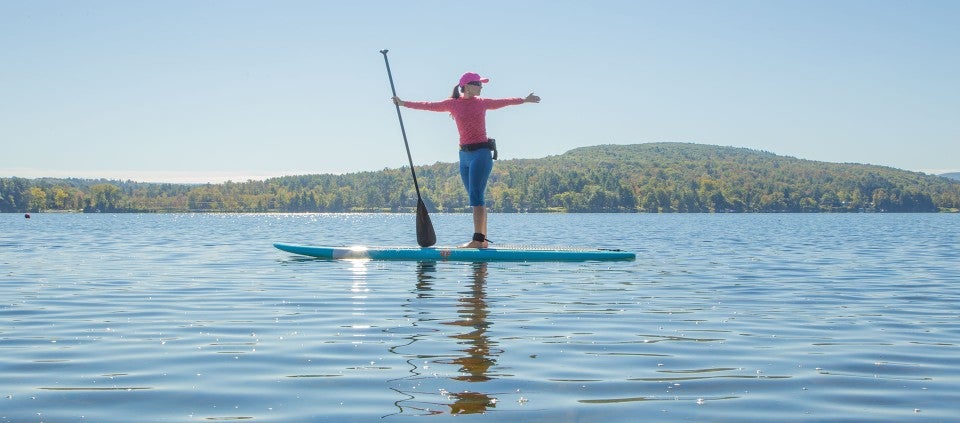 My love of yoga started in the mid-1990s in the living room of a fellow raft guide in West Virginia. We would gather around her TV and practice with yoga videos on VHS. Moving my body through the yoga sequences felt just as fluid, challenging, and satisfying as maneuvering my kayak through the currents on the river. Both challenged me, and brought balance, energy, and contentment to my life.
I remember writing the list of poses from the videos down on sheets of notepaper so that I could practice anywhere. I carried them with me to the sandy beaches of remote rivers in the Ecuadorian Amazon, to small riverside villages suspended in time in Mexico, and to pristine whitewater accessed only by helicopter in New Zealand. When I started competing on the international whitewater kayak freestyle circuit, I found that my yoga practice brought steadiness to my nomadic lifestyle. It helped me deal with the stress, self-doubt, and anxiety that I experienced competing and running extreme whitewater. I attribute my success in reaching the podium at the 2001 World Freestyle Championships, and my success in competition in general, to my daily yoga practice.
I've spent over 20 years paddling an average of 200-plus days per year. I've healed the few instances of chronic pain I've experienced, and I haven't suffered any major injuries. Imbalances, misalignments, and muscle tweaks have come up, and the self-awareness that yoga has helped me develop has allowed me to recognize and address them quickly and effectively. I believe that the physical, mental, and emotional benefits of yoga have helped me to successfully face challenges on and off the water. From bringing alignment to my body, to helping me face grief with compassion and grace, yoga has helped to keep me healthy, strong, and supple in mind and body. It is one of the reasons I feel like I am in the best shape ever, and more content in my forties than at any other time in my life.
A vigorous yoga practice is what attracted me in my twenties. I viewed yoga poses as something to strive for, and getting a workout as an important aspect of yoga. In my drive to get "good" at vigorous flow yoga, I moved through poses quickly without attention to alignment, exacerbating imbalances in my body and increasing my risk for injury. I was introduced to alignment-based yoga in my thirties, during my 200-hour yoga teacher training, and a whole new world of self-awareness opened up. I was learning what my body actually needed, versus what my ego wanted me to practice to look good.
As my practice deepened and I pursued my 500-hour yoga teacher training certification, I delved deeper into the more subtle benefits of yoga. The ancient concept that the ultimate expression of a pose requires both steadiness and ease became the focus of my practice. I learned how to bring both to my practice with subtle alignment cues from experienced and effective teachers. I was amazed at the strength I was cultivating by learning to move more slowly. I was able to become aware of and activate muscles that had been getting sleepy due to kayaking and address imbalances exacerbated due to a vigorous practice that was, at times, driven by ego.
Over the last two decades, both my paddling and my yoga practice have shifted and changed. I still have a passion for paddling, challenging myself and improving. But my passions now focus on learning to paddle surf and challenging myself on my standup paddleboard (SUP) rather than ticking off difficult rivers or learning the latest freestyle tricks in my whitewater kayak. I'm also a passionate instructor, guide, and instructor trainer who finds great joy in empowering and inspiring paddlers both on and off the water. I've dedicated the last 12 years to my company, Girls at Play, which supports women in building skill and increasing confidence through whitewater kayaking, yoga, SUP, and travel.
My yoga practice has become a tool that supports my body's ability to practice and teach the paddle sports that I love with comfort, ease, and skill. It also supports the more subtle practices of breathwork and meditation that help me manage stress, cultivate mental clarity, and keep my energy levels steady. I think that one of the best reasons to practice yoga for paddling is the self-care to be able to paddle well into your 80s!
Find out about Stand Up Paddleboard Yoga Teacher Training with Anna Levesque at Kripalu.
Excerpted from Yoga for Paddling, courtesy of Falcon Guides.
Anna Levesque is the author of Yoga for Paddling and an international paddling, yoga, and Ayurveda wellness coach.
Full Bio and Programs