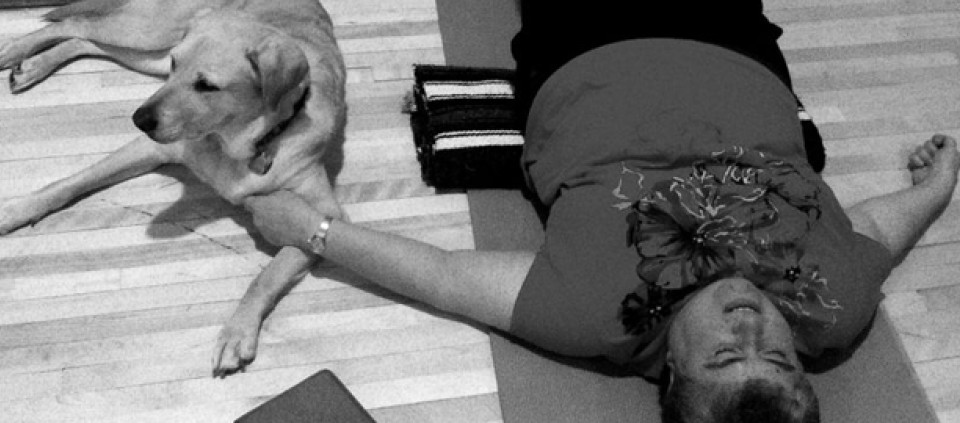 Yoga for the Visually Impaired
When she was growing up, Lauren-Victoria (Tori) Hellrung's family raised guide dogs in their home, so Tori has always been sensitive to the needs of people with visual impairments. After completing her yoga teacher training at Kripalu in 2009, Tori went home to Montreal and immediately started a class for legally blind adults at the MAB–Mackay Rehabilitation Centre (at the MAB site, formerly known as the Montreal Association for the Blind).
"When I started, I didn't realize the impact this program would have on their lives," Tori says. "As I began to learn about the community, it became clear that beyond the gym and aquafitness, my students had no other physical outlets, since most sports are not accessible to blind people. They had no other way of exploring their bodies' potential, and none as mindful as yoga. I have not heard of a program other than my own in the Montreal area that provides this kind of opportunity for students to be in their bodies in a safe, spiritual, and physical way."
After teaching the class as a volunteer for two years, Tori applied for and received a Kripalu Teaching for Diversity grant to support her work. The grant paid for a selection of props for her 10 students, allowing Tori to modify postures more skillfully for the wide variety of body types in her class.
Along with providing a safe space in which her students can explore their capabilities, Tori facilitates discussion of self-compassion, the yamas and niyamas, and other elements of yoga philosophy that can be used as tools in daily life. Her class was recently the subject of a 15-minute documentary film, Yoga in the Dark, directed by David Adelman and Philippa Duchastel De Montrouge. "The mat represents a refuge for these students, where they come every week to learn more about themselves with the support of a team," Tori says. "The community we have built together is strong, kind, and dedicated to the practice of yoga."
© Kripalu Center for Yoga & Health. All rights reserved. To request permission to reprint, please e-mail editor@kripalu.org.
Kripalu offers an amazing range of yoga retreats and trainings for people at all levels of experience.
Explore