On Campus Program
Guiding Meditation for Transformational Yoga Teaching
300-Hour Yoga Teacher Training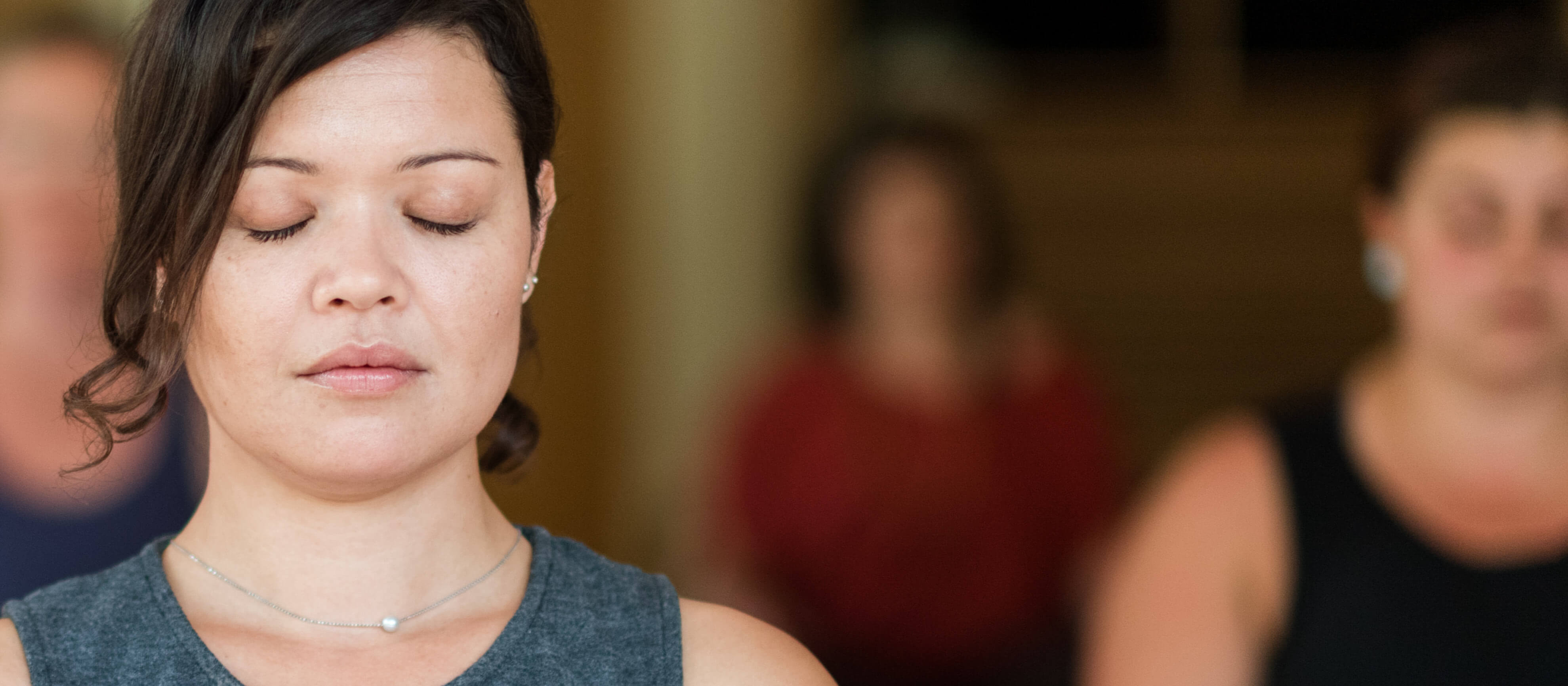 COMPLETE YOUR TRAINING ON CAMPUS
Yoga teaches us that the pursuit of inner stillness is actually enhanced by periods of physical activity. As you sink into meditation, asana becomes a tool to embody higher awareness. Guiding Meditation for Transformational Yoga Teaching provides you with the support, practice, and guidance needed to bring all facets of your being into the single focus of samyama.
This module includes
Immersion into the core meditation techniques of the Kripalu tradition
An integrated practice of postures, pranayama, and relaxation to enhance meditation
Simple yet effective tools to access the meditative states of dharana and dhyana
Insight into the broad spectrum of meditation approaches and their benefits
Discussion on how yoga and meditation can affect the wholeness, growth, and transformation processes.
Prerequisites Any 200-Hour Yoga Alliance Registered Yoga Teacher Training
Learn more about the 300-Hour Kripalu Yoga Teacher Training.
---
About the Application Process
Admissions to the programs are determined on a rolling basis. Given high program demand and a maximum number of students per training, we strongly recommend that applicants submit applications as soon as possible. We rely on information provided in the application to make informed decisions about your capacity to fully participate in and benefit from all aspects of the program. Please answer the questions honestly and completely. The Kripalu Schools do not discriminate in admissions, administration, or educational policies with regard to race, ethnic origin, gender, age, sexual orientation, creed, or religion.
Notes on your application:
Review information on program dates, costs, faculty, curricula, certification criteria, and general information about Kripalu on our website.
Complete the appropriate application for the program for which you are applying in its entirety, including the short-answer questions. Be sure to indicate your preferred program dates. Incomplete applications will not be reviewed. Kripalu reserves the right to require a phone interview or take other steps to supplement your application, if needed, in order to arrive at an informed admissions decision.
You will be notified of your admissions decision via email. If you do not have an email address, we will send your admissions decision by regular mail and also call you to inform you of your status.
If you are accepted in the training and the course you are interested in is full, you may register for the waitlist, which will remain open until the program's start, or you may register for any training date within one year of your acceptance.
---
Program at a Glance
Yoga Experience
Intermediate
Program Theme
Kripalu Yoga
---
Presenter(s)
Jurian Hughes, E-RYT 500, YACEP, MFA, Kripalu School of Yoga senior faculty, is a Let Your Yoga Dance® teacher trainer, writer, speaker, performer, voice coach, and mentor.
Full Bio and Programs
Steven Leonard is a faculty member for the Radiance Sutras School of Meditation, the Kripalu School of Yoga and has been leading teacher trainings for more than a decade.
Full Bio and Programs