Creative (and Tasty!) Dressings and Toppings for Summer Salads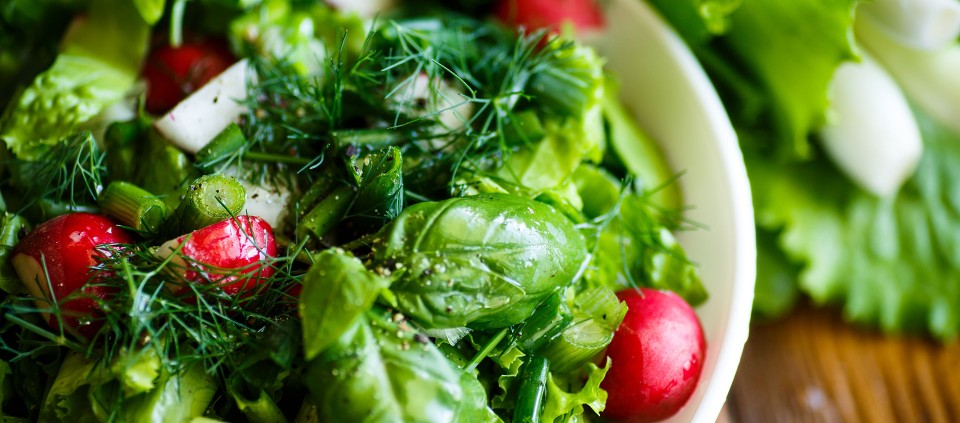 According to Ayurveda, the best foods to eat are the ones growing in your region and available at your local farmers' market. So grab whatever's green and try these tips for throwing together light side dishes or hearty meals.
A basic vinaigrette recipe is three parts oil to one part vinegar. Don't stress about emulsifying your dressing; just whisk it till it's combined, or put all the ingredients in a jar and shake. You can play with the basic recipe to your taste:
Cut back on the oil if you like it sharper
Incorporate aromatics like garlic and ginger
Add herbs, mustard, miso, or tamari for an extra kick
Use lemon juice or red wine vinegar instead of balsamic or apple cider vinegar.
Here's the recipe for our Kripalu House Dressing.
To bring out the flavor, season your salad—not just your dressing—with a dash of salt and a twist of pepper.
You don't have to stick with one green; mix it up with different textures and tastes, like crunchy romaine with spicy arugula and baby lettuce.
Chop up fresh herbs and toss them in—salads are a great way to use up extra basil, cilantro, thyme, or any other herbs that are sitting around after you bought a bunch and used just a tablespoon or two for a recipe.
Make your salad a meal by adding
Grilled or roasted leftover veggies, chicken, or fish
A can of boneless salmon or yellowfin tuna
A can of organic beans, rinsed
A handful of nuts or seeds
Plant-based proteins like avocado or crumbled silken tofu
Cooked grains.
Always dress your salad right before serving, so it's evenly distributed and well tossed, rather than having diners add the dressing themselves. But if you're taking your salad on the road or to work, prevent wilting by carrying the dressing in a separate container and adding it when you're ready to eat.
Check out cooking programs with Jeremy Rock Smith.
Sample more videos, recipes, and articles: The Om of Yum
View more Summer Salads from the Kripalu Kitchen
© Kripalu Center for Yoga & Health. All rights reserved. To request permission to reprint, please email editor@kripalu.org.
Jeremy Rock Smith, Kripalu faculty and a graduate of the Culinary Institute of America, began his career in classical French cuisine.
Full Bio and Programs