How Mindfulness Supports Women's Empowerment: A Conversation with Kate Johnson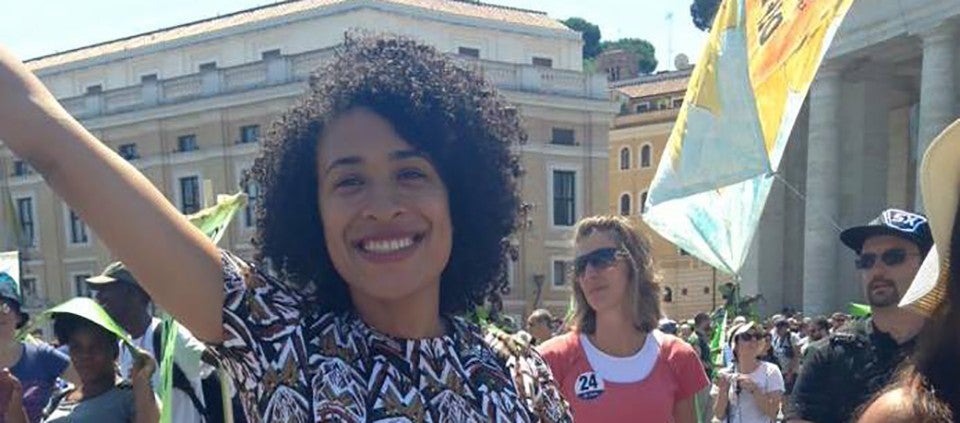 Kripalu presenter Kate Johnson is a meditation and movement teacher based in Philadelphia. She's also a social-justice activist and a faculty member for MIT's Presencing Institute, where she has trained hundreds of leaders and change-makers to use embodied, awareness-based approaches to systemic transformation. In this Q&A, she talks about her early spiritual leanings, how mindfulness and activism are intertwined, and why she always wears red lipstick when she teaches women's meditation retreats.
How can meditation and mindfulness support women in particular? How have you experienced this personally?
I taught my first women's meditation retreat three years ago. Having been in a leadership position with groups of men, in which I felt that I had to take on a more stereotypically masculine leadership style, my femininity had gone underground. In political communities, expressing my femininity meant that I was running the risk of being sexualized, especially as a young person of color. Being in a circle of women helped me to examine my attitudes about women and about myself as a woman, and showed me how much I longed to be connected to other women and feared being rejected by them. I found out I wasn't alone; we all belong—whether we're cis or trans, no matter our ages, race, background, economic status, or political beliefs. We need to make sure that how we articulate what it means to be a woman is expansive enough that all people who identify as women can find themselves inside it, and that we don't have to leave out other parts of our identity.
I'm now part of a group of dharma teachers who are all women of color—my sister circle. We meet regularly and our agenda is about how to connect and support each other. I'm also exploring how my femininity can be a source of power. When I teach a meditation retreat, I purposely wear red lipstick the whole time, as a way of bringing that part of me present.
I have so much hope for what women can do together. We have such great diversity and commonality, and there are so many ways that we can support each other across these differences. The most pressing social divides and political issues of our time need women's wisdom, creativity, and unity to problem solve. I would love to see what would happen if women came together in solidarity to work on issues like immigration, citizenship status, the rapidly increasing wealth gap, and mass incarceration.
But without awareness of our own inner condition and a way of aligning with and trusting each other as women, our movements will dissolve as quickly as they start. We're living in a time of patriarchy, and every woman I know has experienced the fallout of that—body hatred, internalized ageism, feelings of not being good enough, not trusting our intuition, having to hide our inherent strength, competing for leadership roles and resources. We need to build trust across our differences, and engage in self-examination and deep dialogue from a place of mindfulness. Meditation and mindfulness are healing practices, and there is a lot of healing to be done for women, individually and collectively.
When did you start practicing yoga and meditation? What first drew you to these practices?
I was raised loosely Catholic, and I was always drawn to the ritual and community aspects of the church. I didn't love the dogma, but I loved the processionals and the singing together and turning to your neighbor to say "Peace be with you" at the end of the service. I felt totally fed by those moments and that sense of connecting the community by seeing other's goodness. I felt totally fed by those moments and that sense of connecting the community by seeing other's goodness. I was also interested in Asian and Buddhist cultures; there was a dusty old encyclopedia in the basement and I'd look through the pictures.
In my late teens and early 20s, I was a dancer, so I experienced what it feels like when mind, body, and heart are synchronized and every part of you is present. When I came to New York City to pursue dance professionally, it became less of a sacred practice for me, so I turned to yoga and meditation, and eventually did 200-hour yoga teacher training. I was working at the time with a public health organization in the South Bronx, and I wanted to learn meditation and slower forms of yoga that I could share with people with chronic illness. So I went to Spirit Rock for the mindful yoga and meditation training, and eventually trained as a Community Dharma Leader and Insight Meditation retreat teacher.
I've been mostly interested in teaching outside the meditation hall and yoga studio. I taught meditation and mindfulness in New York City public schools for seven years, to everyone from pre-kindergarteners to teachers and school security staff. It was really rewarding to be able to share practices with young people to help them tune into their inner experience, to discover who they are and what they need.
What first sparked your social-justice activism, and how is it intertwined with your spiritual practice?
When you're working in city schools, you can't help becoming politicized, because schools are microcosms for all of society's inequities. I remember a young African-American girl who showed up in my yoga class one day completely shaken—she'd been running toward the bus stop to high-five a friend and a policeman grabbed her. Hearing about so many incidents like this got me interested in trauma-sensitive practices, and ways to help kids self-regulate and maintain a healthy nervous system, so they can stay calm in life-threatening situations like these.
At the time, I was working with a meditation center that was approached by labor organizers looking for support for their campaign for fair wages for fast-food workers. They had the vision of a group of meditators circling the protesters in support of the cause. As part of that campaign, we did a series of "teach-ins" at meditation spaces around the city, with a fast-food worker talking about the labor struggle and then a meditation teacher contextualizing that struggle through the lens of the spiritual teachings. It was a kind of bridge between mindfulness and social-justice action. I've also worked with organizations, like the Buddhist Peace Fellowship, that offer spiritual support for people who are already involved in social-justice movements. There's a lot of suffering in activist communities—often people get into this work because they've been personally impacted—so we taught them mindful ways to heal and replenish.
People sometimes think of Buddhism and meditation as vilifying anger, but there's a difference between anger and hatred. The Buddha taught that hatred is poison, but anger can serve as an energy that wakes us up to injustice, and we can direct that energy, with love, toward change. The idea is that the practice can give us superpowers for participating in direct action. I see mindfulness and meditation not as a fruition in themselves, but as a fundamental way to build capacity to make an impact in the world.