How Yoga Supports Women's Empowerment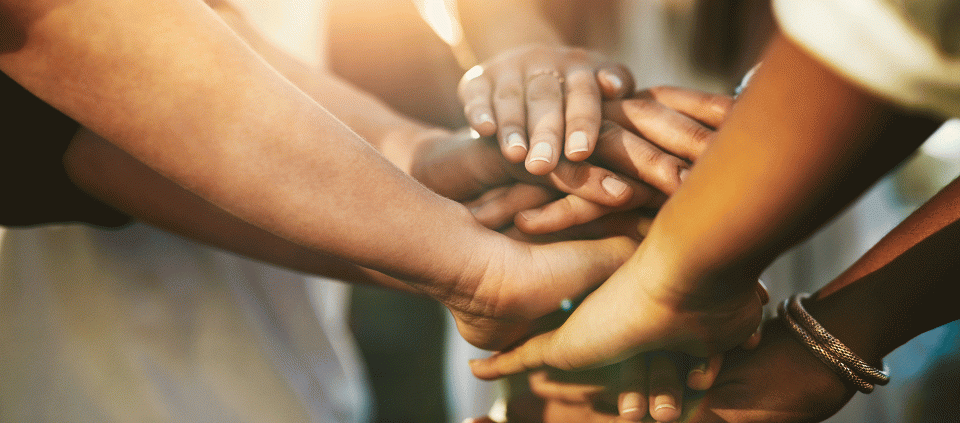 Kripalu CEO Barbara Vacarr (below, second from right) sat down with four of the many thought leaders who will be presenting at The Revolution Within: Women's Week at Kripalu, November 10–15. The conversation focused on how yoga supports women's empowerment, what "the revolution within" means to each of them, and why gathering together is so important.

Barbara Women's Week is focusing on how we, as women, can come together to create a world of equality, justice, and peace—which we all know requires both inner and outer work, learning, and commitment. In a week focused on solidarity and community, we're honoring the crossroads of yoga and activism, and cultivating inner resources as an antidote to living in a world that is divided and disrupted.
I want to begin by introducing our illustrious group of women, with the understanding that there is no way I can capture all of what you bring to the world. Toni Bergins [at far left, above] is the founder and director of JourneyDance and a vibrant and expressive Kripalu YogaDance teacher—I can say that from my own personal experience. During Women's Week, Toni will be coleading, with Kripalu Yoga teacher Coby Kozlowski, the program Embodied Revolution: Feeling Our Passion, Presence, and Power.
Maya Breuer [second from left] is a Trustee Emerita of Kripalu, cofounder of the Black Yoga Teachers Alliance, creator of the Yoga Retreat for Women of Color, and Vice President of Cross-Cultural Advancement for Yoga Alliance. At Women's Week, Maya will be copresenting The Yoga of Inclusivity: Be the Change, along with Jana Long [at center], a yoga therapist, meditation facilitator, and cofounder and executive director of the Black Yoga Teachers Alliance.
Alexandra Roxo [far right] is an award-winning filmmaker, writer, and coach. She teaches a program at Kripalu on owning your feminine power, and she is using technology to create community among women worldwide. During Women's Week, she'll be offering Piercing the Veil: Modern-Day Myth, Spirituality, and Sensuality.
Let's begin with this: We've titled Women's Week "The Revolution Within." What does that mean to each of you?
Maya For women to really own their power, to stand in the grace that's given to all of us at birth, we must go within to honor and care for our own body, mind, and spirit. Women so often reach beyond ourselves to help others, and the self has to come first. The practice of yoga helps us to go within, but there will also be other practices presented during the week that will support women to do that—dance, drumming, conversations. All of us coming together to breathe, to move, to dance, to express, to argue, to agree or not agree, that's the revolution. We can begin to see one another with eyes that are not jaundiced by the challenge of our culture, which is patriarchy.
Jana We are conditioned into the patriarchy—it has defined us as women and it's part of our conditioning from birth. We need to decide how we are going to move forward: Are we simply emulating the power dynamic of patriarchy as we claim our power, or are we coming from a place of true feminine embodiment of power? We need to more clearly define what feminine power is, and how it stands outside of patriarchy.
Toni To me, it's all about feeling and being able to see another person without all the patterns that have been conditioned into us. When we get into our body and we begin to feel our emotions, we tap into the feminine, which is the empathic, compassionate connection. And from that place, we can break out of the box of our conditioning.
Alexandra I facilitate an online community of 400 women around the world called Moon Club, in which we empower each other to lead our own circles around the world and tell our stories, and in that space, no one is the expert, no one is the person in charge. For me, that's what I'm interested in as we evolve—not emulating patriarchal structures, but instead standing together, because we can only make the shift if we do it together.
Toni So many women who are going to come to this event are hungry for the conversation—they want to heal, they want to help, they don't want to just be sitting there talking about whatever's going on in the world—they want to do something about it. That's why I'm so excited about this event.
Barbara Think about the retreat center filled with 300 women all feeling that way­—it's going to be so exciting! When I think about women's experiences in the world that we're living in today, I think about what an important time it is to be hosting this event focused on empowerment, connection, embodiment, and service as activism, and how completely connected all of that is to Kripalu's mission, which speaks directly to empowering individuals and communities through the transformative wisdom and practice of yoga. What makes this the right time for Kripalu to be hosting Women's Week?
Alexandra It's the time because it's here—it's on the surface, we can't ignore it anymore. It's all hands on deck. A lot of my work is encouraging and mentoring other women to find their voices and to have the courage to speak up and share. Each one of us has gone through so much, and one of the most painful parts about the patriarchy is the silence and the shame around actually speaking our stories and our truths. Every one of us is needed to hold each other as we have the courage to stand and speak, because it is frightening to tell the truth. The truth is scary.
Jana I agree with you, Alexandra. There are so many commonalities in our stories across ethnicity, race, size, shape, you name it—we're all women in this world. And I don't think it's any accident that in Western culture, yoga—this ancient healing science for self-development—is practiced primarily by women. The power of women has been suppressed, and we've been given a very special tool—yoga—to change that.
Maya Women of color have a certain amount of suffering that comes just with being of color, because of discrimination, because of the lack of diversity and inclusivity. We come with that extra burden, and my hope is that women of color will realize that this week is an opportunity for them to get unburdened, to break through that glass in front of us that blocks us from communicating with one another as women. No matter our color, culture, or ethnicity, we're all in this together, and that's more important than race or culture.
Alexandra What I'm excited about is that Kripalu is on the front lines of changing the way spirituality looks in the West. This is one big opportunity for us all to say, spirituality isn't a bunch of male swamis—it's actually us, who are wild, intense, and passionate on some days; some days, completely peaceful; some days in a state of oneness and quiet—we're all those things. Yoga is often portrayed as "We're balanced and we have it all together and we have the really fancy pants on." And my yoga is mostly in my underwear, crying in my bedroom, and then smiling and laughing. That's the real yoga.
Toni As women, we have this idea that we're not supposed to be angry, we're not supposed to be gritty, we're just supposed to be nice and pretty and perfect. What I want to teach women, and especially young women, is how to be in their power: I can say no, I can set my boundaries, I can be clear, and I can stand up for myself. It's power, not overpower.
Maya I see women coming together as a sacred moment. We're coming together to honor ourselves as women, to look at ourselves with eyes wide open, and a quieting will occur—that doesn't mean a silence, but a quiet in which we're going to go within to find ourselves and then seek out own personal healing or renewal or tools to go forward.
Alexandra What's really healed me is sitting with other women and being impacted by their practice, their years of wisdom, their stories. That's been the thing that has really brought me back to the essence of my true nature that I was born with, that true nature that I forgot about and that I'm still trying to figure out every day.
Toni That's it—it's about the community that we're going to create. I just got back from a training in Mexico with a whole bunch of people. I love what I do so much, and I always feel this loneliness when I get home, because there's something so special about coming together for a particular purpose—we create this instant community of seekers.
Jana I find that many of the younger teachers in the Black Yoga Teachers Alliance come to yoga as a way to serve in their communities. I will be encouraging our members to come to Women's Week and bring their voices and ideas and new ways of thinking and of being in the world—not just to sit at the feet of the sages and the wisdom keepers, but to bring their voices into the room.
Maya I have a few words that I think can sum up our conversation, and it's sort of like a little poem:
Women sharing
Opening listening being
Daring to balance
That's what I see us coming together to do. Just by being together, we're going to lift the veil on what it is to be the feminine powerhouse that all women have the capability of being.
Barbara This has gotten me very excited about coming together in a bigger circle to continue this conversation in November. Thank you for all the wisdom, the experience, and the expression that you brought to our time together.