I Want My Yoga TV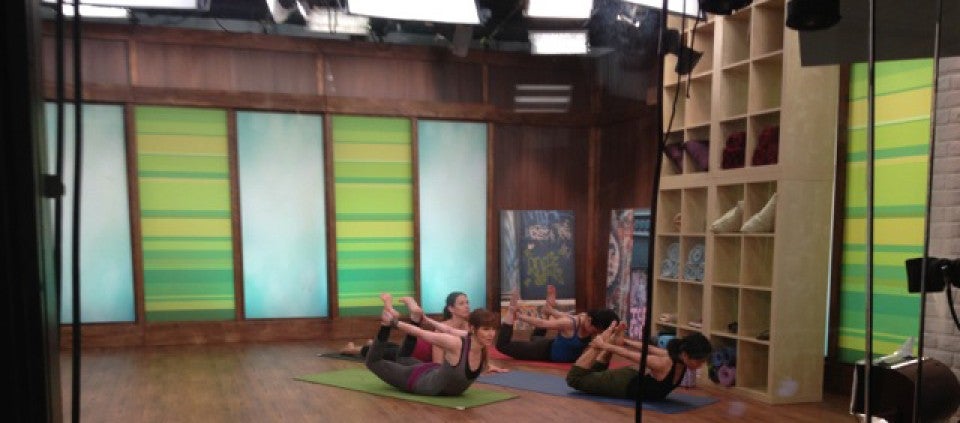 Now, instead of just using TV (or live streaming) for entertainment, we can actually harness this medium to move, breathe, and explore our practice. Though nothing compares to an actual, supportive teacher who knows your name and hamstrings, it's a pretty brilliant innovation for the modern yogi. Weather- and time-related excuses be gone! Here's a collection of next-best classes when the studio is out of reach.
First, we've got Sadie Nardini's show, Rock Your Yoga, billed as a "yoga reality show," but looks more like a straight-up yoga class, plus tips and occasional guest spots. Sadie is awesome, and the hour-long show offers an invigorating daily vinyasa dip. Plus, the students are real and refreshingly unrehearsed; watching people who don't look like movie stars spontaneously move their bodies is inspiring.
Second, is Kurt Johnson's show, Yoga for Life. He's got a mellow-yet-intense buff-yoga-guy vibe and offers easy-to-follow instruction. Again, it's less of a "show" and more of a yoga class.
Then there's Canada's Namaste Yoga, a lushly produced show available on DVD in 22-minute episodes. (If you're in Canada you can watch it on the ONE station.) Filmed in gorgeous locations in and near Vancouver, the show is populated by yoga babes in tiny tops and tight pants, and the camera does lots of full-body pans. Teacher Kate Potter's narration guides the classes with clear, specific instruction. Check out NamasteTV to see clips and buy DVDs with full episodes.
Moving further into yoga-classes-online territory opens up a whole world, there's YogaGlo, offering classes with the likes of Elena Brower, Kathryn Budig, and Amy Ippoliti. And the way these are filmed really makes it feel as though you're in a class—albeit at the back of the room. You can easily choose your session by length, style, teacher, etc. Go to YogaGlo.com to preview episodes and subscribe.
Finally, there's Gaiam TV, another subscription service, which offers original programming, plus excerpts of DVDs with top teachers like Rodney Yee and Seane Corn. It's a sweet blend of beautiful scenery and fantastic instructors with a solid selection—though finding what you want can be clunky. See previews and sign up at GaiamTV.com.
No yoga TV story would be complete without a namaste to the woman who started it all—Lilias Folan. She launched her PBS series, Lilias! Yoga and You, in 1972, helping to touch off the first sparks of the yoga fire, on TV and well, well beyond. And now in her 70s, she's still teaching.
© Kripalu Center for Yoga & Health. All rights reserved. To request permission to reprint, please e-mail editor@kripalu.org.