Kripalu Recipe: Custardy Baked Oatmeal with Fruit and Nuts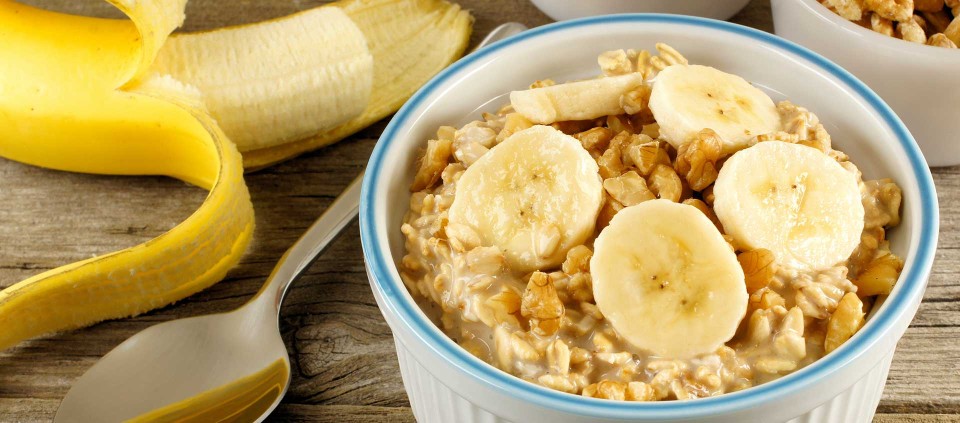 May 2, 2020
Here in New England, 2020 is giving us (along with everything else) a spring that just won't come. Hail continues to pelt the windows, and the clouds refuse to lift. While the calendar may declare it's spring, the temperatures suggest otherwise. While this season is usually the time to eat raw, bitter, cold foods, according to Ayurveda, the cool temperatures call for warm, cooked, grounding meals, at least until the sun shows its face again.
You can't do better on a chilly spring morning than Baked Oatmeal. Think of this recipe as a template or foundation—oats baked in a creamy custard with a fruit base—and the rest is up to your wildest imaginings. Rather than walnuts, bananas, and berries, you might try cherries, almonds, and chocolate; or peanut butter, bananas, and bacon, Elvis style. I made it last week with bananas, frozen strawberries, and coconut. I bet marshmallows would be good, too!

Have fun with it—get the family involved and share your creations with us!
Makes 4–6 servings
2 cups rolled oats
½ cup walnut pieces, toasted and chopped
1 teaspoon baking powder
1½ teaspoons cinnamon
½ teaspoon sea salt
2 cups whole milk
1 large egg
⅓ cup maple syrup
4 tablespoons butter, melted
2 teaspoons vanilla extract
2 ripe bananas, cut into ½ inch chunks
1½ cups blueberries
Preheat the oven to 375 degrees. Butter an 8-inch baking dish.
In a medium-sized bowl, combine the oats, ¼ cup walnuts, baking powder, cinnamon, and salt. In another bowl, whisk together the milk, egg, maple syrup, 2 tablespoons butter, and vanilla extract.
Arrange the sliced bananas on the bottom of the prepared baking dish. Sprinkle two-thirds of the blueberries over the bananas. Cover the fruit with the oat mixture. Slowly pour the milk mixture over the oats. Gently give the dish a few taps to ensure that the milk mixture has flowed to the bottom. Distribute the remaining berries and walnuts on top.
Bake for 40–45 minutes, until the top is golden and the oat mixture has set. Remove from the oven and let cool for five minutes.
Drizzle the remaining melted butter on top. Serve with maple syrup on the side or a dash of cinnamon sugar on top, if you wish.
This dish reheats well for up to three days when stored in the fridge. Want to save some for a rainy day? Freeze a portion in an oven-proof container and reheat anytime.
Lauren Gernady is an Ayurvedic Health Counselor, a 500-hour Ayurvedic Yoga Teacher, a graduate of the Kripalu School of Ayurvedic (KSA), and a former intern and Academic Coordinator of KSA.
Full Bio and Programs