Kripalu Recipe: Green Curry Sauce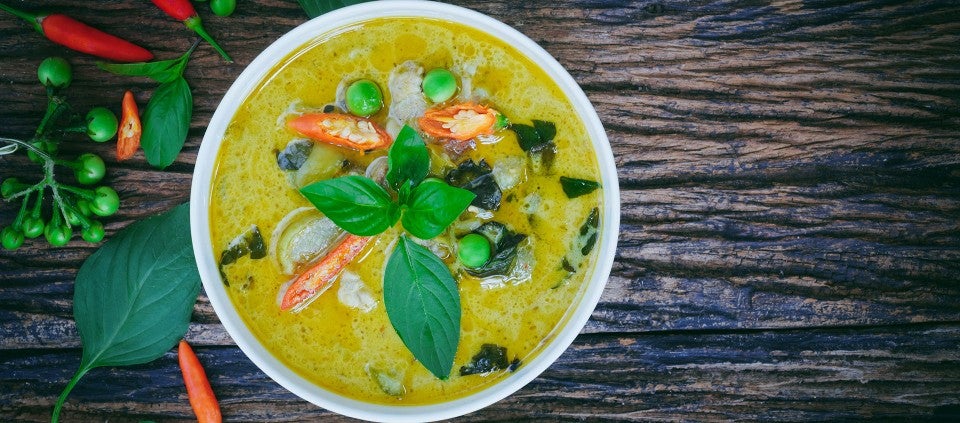 This summer, try this savory and fresh green curry! This sauce goes well with fish, shrimp and chicken. For those that want to keep your meal vegetarian, this sauce will go great with seared tofu, sautéed vegetables, or your favorite noodle.
2 cups packed cilantro leaves and stems
3 jalapenos
3 cloves garlic, sliced thin
1 teaspoon fine chopped ginger
1 can usweetend coconut milk
1/2 cup stock (use your prefrence of veg stock or chicken stock)
1 tablespoon lemon juice
1 teaspoon ground coriander
½ teaspoon tumeric
½ teaspoon ground cumin
Salt and pepper to taste
With a food processor combine cilantro and jalapeno and blend to a paste-like consistency.
In a small sauce pan sauté garlic and ginger, then add dry spices to bloom. After a few minutes add coconut milk and stock. Reduce slightly and add cilantro/jalapeno paste. Simmer over medium heat stirring occasionaly until sauce coats the back of a spoon. Adjust seasoning and add lemon juice.
Jeremy Rock Smith, Kripalu faculty and a graduate of the Culinary Institute of America, began his career in classical French cuisine.
Full Bio and Programs