What Happened When I Invited My Husband to My Happy Place
by Marianne Gambaro
I first heard about the Seven Steps to Healthy Aging program at Kripalu when I attended a workshop with Vandita Kate Marchesiello during a Kripalu R&R stay in February. It sounded like something that both I and my husband, Jim—at 68 and 78, respectively—could benefit from. That evening, I sent him the link to the program and he immediately emailed me back, "Sounds good. Sign us up." I didn't ask a second time. It became our wedding anniversary gift to one another. (Here's his story of our visit.)
But as the late April date approached, I began getting nervous. I had been practicing yoga since the mid-1970s and my escapes to Kripalu predated the Kripalu Cafe and the Annex. Jim had dabbled in yoga but was both a carnivore and a TV news junkie. How would he react to a week without red meat or television?
Happily, my concerns were unfounded.
A New Tribe
Heading up the entry road, I audibly exhaled when we got to the sign, "Breathe. You've Arrived." I was safe in a place I love. After I gave Jim the grand tour, we had supper, then went to our opening session with Vandita and Ken Nelson, both of whom I had taken workshops with during previous visits. They immediately made us feel comfortable as we met the other participants, a diverse group of 18 in all, including our leaders, with whom we would spend a week talking, learning, crying, and laughing—and, most importantly, sharing the wisdom of this newly formed tribe. I quickly stopped glancing at Jim to see how he was reacting and vowed that I would have my own experience and let him have his. Yes, I am the alpha in our relationship, so letting go does not come easily.
After 46 years of marriage, our primary area of incompatibility is that I am a morning person and Jim is … not. So, I was delighted when I came out of my 6:30 am Gentle Yoga class the first morning to see him waiting to join me for silent breakfast. (For years, I had gone to Intermediate Yoga classes, but after hand surgery had kept me off my mat for more than a year, I had begun going to Gentle Yoga during my February R&R, deciding I didn't have to prove anything. Letting go became one theme for the week.)
Lessons in Mindfulness
Our program included a three-hour session each morning and a two-hour session in the afternoon, during which we practiced traditional yoga with and without the aid of a chair, meditation, and pranayama; journaled; and talked—a lot. A new discovery for me was qigong, a practice Ken led outdoors between the persistent rain showers throughout the week. Both he and Vandita emphasized the importance of connecting with nature, not a problem for me as a hiker and gardener living in the Pioneer Valley of western Massachusetts, but they helped me increase and appreciate sensory awareness of my outdoor surroundings. We also had several Yin Yoga sessions, with extended holds of postures, which has been part of my practice but was new to many in our group.
One of my favorite moments was a mindful-eating exercise, when Vandita handed out containers holding a few chocolate-covered raisins and had us put just one (!) in our mouths to savor the texture and taste as the chocolate melted away, and let the digestive juices start flowing before we chewed and swallowed.
What did I take away from the week? I feel I am more mindful, especially when eating. I come from a long line of food shovelers, so putting my fork down between bites (as recommended in the Kripalu Guest Guide!) and actually tasting my food, as well as feeling grateful for those who brought it to me—human and otherwise—has been a big step. I've rediscovered the importance of meditation and breathing techniques to cope with everyday stresses such as traffic and yes, the news. I am learning that self-care is essential, not self-indulgent. And I had the added benefit of sharing a very special place and experience with the guy who has been my best friend for more than four decades. As we sat by the lake our final afternoon, Jim said to me, "We should do this every year on our anniversary." Sounds like a plan!
Browse healthy aging programs at Kripalu.
Following a career as a journalist and nonprofit public relations professional, Marianne Gambaro writes for the love of words, primarily poetry. More about the author: margampoetry.wordpress.com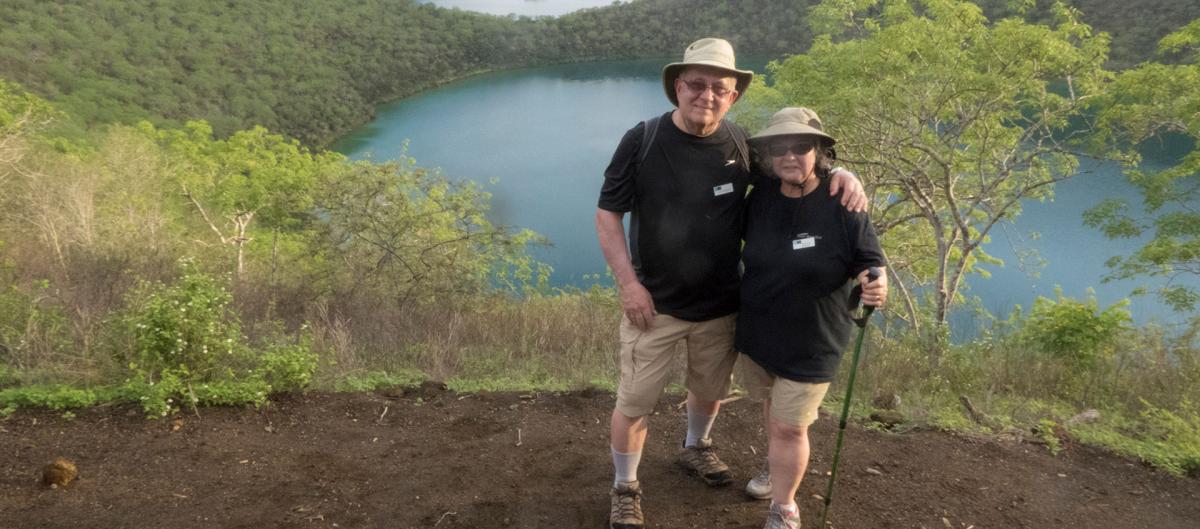 © Kripalu Center for Yoga & Health. All rights reserved. To request permission to reprint, please email editor@kripalu.org.