Eight Windows into Meditation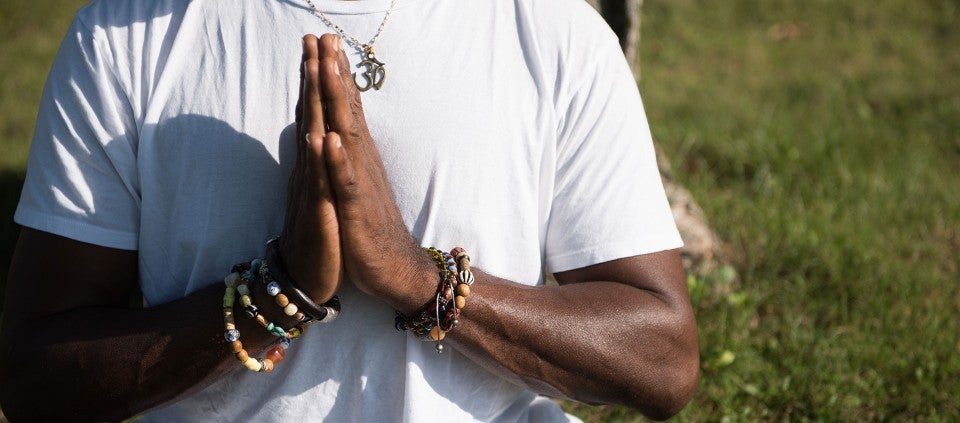 Think of meditation, and you might imagine yourself sitting on a cushion with your eyes closed, watching your thoughts, getting distracted, coming back to your thoughts … and so on. But that's not the only way to do it—there are many other entry points into meditation. Here are eight ways to explore the power of this practice.
Watch the birds. Birding as a contemplative practice is about awakening the senses, and opening to the thrill of discovering what is flashing by you in that moment—without attachment. "A lot of the disinterest and limitations in birding arise when we try to do it the way we think we're supposed to," says Becky Cushing, director of Mass Audubon's Berkshire Wildlife Sanctuaries, who teaches Birding and Mindfulness programs with Kripalu faculty member Steven Leonard. "In a similar way, I've witnessed frustration arise when we try to practice mindfulness in a way we think we're supposed to. I've learned to be okay with not being able to identify a bird by sight or sound. Sometimes, it's nice to let the dawn chorus of birdsong wash over you without ever lifting your binoculars."
Move with awareness. Whether you're doing Mountain pose, exercising, or taking out the trash, movement can be meditative. And it can impact your mood and mental state, establishing what Kripalu Yoga teacher Ellen Barrett calls "a bubble of peace." "Your thoughts and feelings really do rule your physical body," says Ellen, creator of the best-selling Yogini Workout video. "This is precisely why I teach meditation and affirmations along with movement—because how you feel and what you think are inseparable from how you move."
Simply breathe. Rolf Gates—yoga teacher, author, and codirector of the Yoga, Meditation, and Recovery Conference at Kripalu—says conscious breathing is one of the most powerful ways to release our habitual stress responses. He suggests the practice of inhaling on four counts and exhaling on five. "When we slow and regulate the breath," Rolf says, "we move out of the fight-or-flight response governed by the sympathetic nervous system and into the relaxation response governed by the parasympathetic nervous system. We shift into a calmer state of mind that's better suited to handle whatever difficulty we're facing."
Try a meditation sampler. The key to a satisfying meditation practice is to discover the approach that truly fits your life—and there are many options to choose from. In the Meditation Fusion program at Kripalu, you experience a variety of different teachers and styles—including instinctive meditation, insight meditation, crystal bowl sound meditation, and Kundalini meditation—and learn about the neuroscience that underlies the practice.
Practice the Moon Salutation. Kripalu faculty and presenter Megha Nancy Buttenheim is a cocreator of this sequence honoring the Divine Feminine, which she describes as centering, grounding, and flowing. She's also modified the salutation for those who want a gentler practice and for those who sit in a chair. "It keeps changing, evolving, and growing with time," she says. "I consider the Moon Salutation to be a meditation in motion and also a prayer."
Write down your thoughts. "The first time I experienced writing as a meditative exercise, it was revelatory," says Bhavani Lorraine Nelson, longtime Kripalu faculty and presenter, who teaches an Introduction to Meditation program. "The workshop leader handed each of us a writing board, a couple of pieces of paper, and a pen, and asked us to write down whatever came to mind. Ostensibly a simple task, but it was like trying to capture a kaleidoscope of butterflies in a net." A writing practice explores the idea of meditation as reporting what comes to you, rather than letting it all flow past and bringing the mind back to an object of concentration, Bhavani explains. She uses 750.com, which supports users to establish a daily habit of meditative writing.
Do loving-kindness meditation. "Each day we can take the time to hold others in our hearts quietly and wish them well," says Sharon Salzberg, who teaches this approach in her meditation and yoga weekend with Stephen Cope. "This meditation might include someone who has been helpful or inspiring to us, someone we know who is feeling alone or afraid, someone who is experiencing triumph and joy, or someone we are about to meet with some trepidation. We might, depending on the circumstances of our lives, particularly include children or animals in our thoughts. Taking just 10 minutes a day to reflect in this way is a powerful path to transformation." Here's how.
Give thanks. In Jewish tradition, says Rabbi Sigal Brier, a Kripalu presenter and spiritual mentor, "the first thought we are guided to have upon waking is Modeh/dah Ani, which means I am grateful. When we have regular time to say thank you and put our focus on what we appreciate, the many precious gifts of life, our thoughts are conditioned for more joy and fulfillment throughout the day." And in a society where personal entitlement is the norm, she notes, giving thanks is a necessary remedy. Here are her guidelines for starting a simple gratitude practice: Give yourself a moment right now to name a few things you are thankful for. Then start including giving thanks in your daily routine. It's best if it's done at the same time daily. Notice how you feel when you remember the things that you are grateful for and the people that you appreciate.