9 Heart-Opening Things Couples Can Do at Kripalu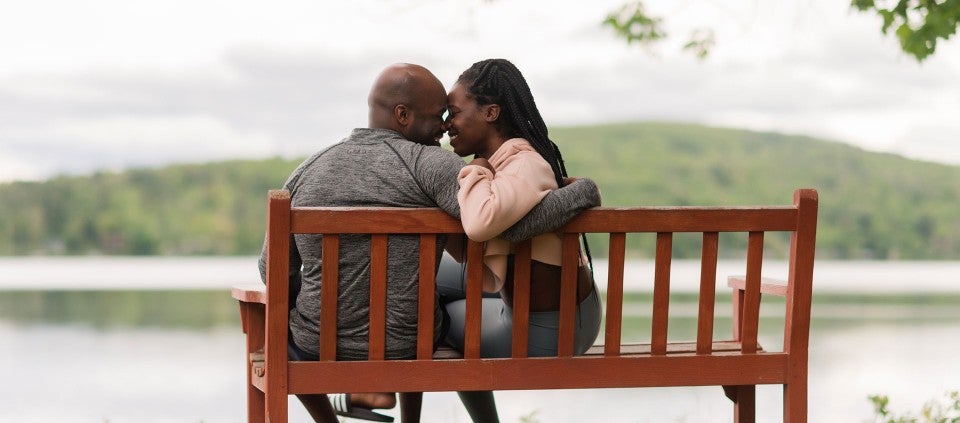 If Valentine's Day has you thinking about how to nurture your relationship, consider stepping outside your daily routine together, and into a space that's dedicated to mindful connection. Whatever your love languages are, you can speak them to each other at Kripalu.
Here are just nine of the many ways to strengthen your love while you're here in a program, for one or more days of R&R, or for the day with a Kripalu Day Pass.
Take a relationship program—or take separate programs. If you're looking for new skills and greater insight into your relationship, consider one of our many relationship programs designed specifically to take you to the next level in your communication and openheartedness. Or choose two separate programs that pique your individual interests, and then make the most of your time together outside program sessions. Whether you're absorbing new experiences together or sharing them with each other at the end of each day, fresh ideas and inspiration always kindle sparks.
Do yoga together. Breathing and moving in tandem, side by side on your mats, supports what's known as entrainment—when your internal rhythms come into alignment. You don't have to be seasoned yogis to try it: There's something wonderful about watching your significant other courageously dive into a brand-new experience—or, on the other hand, admiring your partner's graceful Dancer pose. Give it a try at home with this partner yoga practice.
Attend a Share Circle. Rumi once said, "In order to speak, one must first learn to listen." Share Circles, offered regularly as part of our daily schedule, put into practice one of Kripalu's foundational teachings: conscious communication. "This practice is one of the oldest, richest teachings of Swami Kripalu and yet the simplest, because there's nothing to do but be present," says Kripalu faculty member Izzy Lenihan, a life, career, and wellness coach, who often leads Share Circles. "Conscious communication—deep listening and clear speaking—helps us avoid the verbal misunderstandings that lead to confusion and separation. It helps us build trust in self and others."
Be outside. Take a guided hike or snowshoe, wander our six miles of easy walking trails, or just lie in the sun on the Front Lawn and take in the sweeping views of the Berkshire hills. Studies show that time in nature enhances all five senses and also decreases stress and supports relaxation—establishing an excellent baseline for improving your relationship.
Indulge in some mindful retail therapy. The Kripalu Shop and Cafe offer a wide range of clothing, jewelry, books, body products, snacks, cookies made in the Kripalu Bakery, and much more—from neti pots and meditation pillows to crystals and singing bowls.
Have a metaphysical reading as a couple. Explore your relationship by tapping into your shared intuition, with the guidance of a tarot, psychic, astrological, or Akashic reading. "For couples, readings can help identify where in the relationship you may be stuck or holding unconscious feelings and emotions," says Cynthia Papa-Lentini, PhD, who offers tarot readings at Kripalu. "Readings can help you better understand the places where you have compatibility and where you struggle. In a tarot reading, I might offer targeted suggestions on how to release or reaffirm the issues at hand, helping to bring clarity and movement to situations that may be blocked."
Explore news ways of cooking and eating. Get mutually motivated to change up your mealtime routine. Sample the many options in the Dining Hall, including our main buffet, the salad and panini bars, and the Ayurveda-inspired dishes on our Buddha Bar, all made with fresh, organic ingredients—and then learn how to take it home in an evening cooking demo with Kripalu Executive Chef Jeremy Rock Smith.
Get a Healing Arts service. While we don't offer partner massages, couples can schedule individual Healing Arts services at the same time, choosing from massage and bodywork, energy work, facials, individual consultations, and Ayurveda-inspired sessions. Meet up afterward feeling open, nourished, and relaxed.
Savor each other's well-being. For their book Secrets of Great Marriages, Charlie Bloom and Linda Bloom interviewed more than 50 couples who had been married for an average of at least 30 years. The common thread that ran through their stories was the awareness "that your own happiness is inextricably linked to the happiness and well-being of your partner," the Blooms explain. "Those couples that recognized this lived in a spirit of mutuality, generosity, and goodwill that deepened over time."