Creative Collaborations with Our Berkshire Neighbors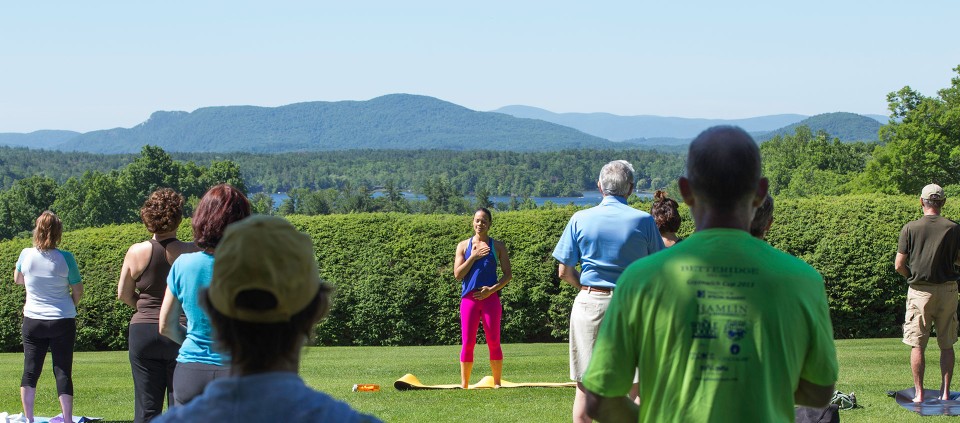 I moved from Manhattan to the Berkshires in 2010 because I was tired of being a stressed-out multi-tasker. I wanted to stop rushing and pushing, striving for some invisible plateau. I needed to be kinder to myself. I didn't have a name for it then, but I hoped to cultivate mindfulness.
Kripalu wasn't the only place in the region where I could foster this—the Berkshires' public gardens, parks, theaters, concert venues, and museums all offer opportunities for practicing present-moment awareness.
Kripalu has since developed collaborations with half a dozen arts and nature organizations in Berkshire County. For example, Kripalu and the Berkshire Botanical Garden are "two organizations dedicated to cultivating prana, or life energy," says Kripalu faculty member Jurian Hughes, who co-taught a program this spring with Christopher Wellens, director of education at Berkshire Botanical Garden.
"As someone who is challenged by seated, still meditation, I love the opportunity to practice forms of meditation where my body has something more to do," says Jurian. "Washing dishes, doing the laundry, or cleaning the house can be meditative. Gardening, though, is particularly enjoyable because it's so satisfying to have my hands in the dirt! It's playful, creative, childlike, and very forgiving. And it provides great satisfaction when my efforts literally blossom into something beautiful."
Birdwatching can also lead to a meditative, mindful state. "It becomes an effortless way to engage my senses and be in the present moment doing something that I enjoy," says Becky Cushing, director of Mass Audubon's Berkshire Sanctuaries, who teaches nature programs at Kripalu and is also a faculty member for the new Kripalu School of Mindful Outdoor Leadership. "Kripalu brings attention to the mindfulness piece, which is inherent in many ways of birding, but is not often recognized or 'named' for what is happening in our brains and bodies when we spend time in nature observing birds."
Becky appreciates Kripalu's scenic view, "which shows the contrast among habitat types, from water to mountain ridge to apple orchard to field. Habitat diversity equates to bird diversity, so there is a lot we can find on the Kripalu grounds and beyond. The other amazing aspect of the Kripalu grounds is that they are situated within a mosaic of conserved properties—in fact, our Pleasant Valley Wildlife Sanctuary is just five minutes away, connected by forestlands." Guests may see great blue herons, woodpeckers, and bald eagles as they survey the land.
Shakespeare and mindfulness might not be an intuitive pairing, but Jennifer Young, an actor, certified Kripalu Yoga teacher, and director of marketing and communications at Shakespeare & Company, pinpoints the crossover.
"The theater is a powerful venue for self-reflection and transformation," she says. "Through the characters in a play, we see sides of ourselves or roads not taken. Shakespeare was interested in the human experience, in exploring what it means to live authentically: 'To thine own self be true.' Kripalu allows us to confront our inner beauty and darkness in a safe space. As does theater."
Along with Obie Award-winning director Melia Bensussen, Jennifer teaches the Kripalu program Exploring the Power of Story and Imagination with Macbeth. Tuition includes a ticket and transportation to Shakespeare & Company's performance of the play.
"By examining the story of the Macbeths, we can reflect on our own 'inner witches,' the whispering of the ego, and see it for what it is," says Jennifer. "We are creatures with the capacity for great imagination, but the tragedy of Macbeth shows us the danger of too much imagination without self-reflection. We see things that may not be real and our minds can create stories. In yoga we learn to pause, to feel, to be present with what is, what we are feeling. It's a practice that helps us identify the cravings of the ego, our habitual reactions, and provides space for a different choice."
Kripalu's Larissa Hall Carlson co-teaches regularly with the Boston Symphony Orchestra's Marc Mandel, offering programs that incorporate mindful asana, breathwork, meditation, and guided listening to classical music at Tanglewood (just across the road from Kripalu). Discussions focus on "how we perceive music and how we respond both individually and collectively to the experience of concert-going," says Marc, who's been on the staff of the BSO since 1978. "After I started doing yoga and meditation, it occurred to me that there are some seemingly obvious parallels with music."
Marc and Larissa lead participants "to a place of grounded, focused mindfulness. We move from the gross to the subtle, from physical movements to help them relax, to gentle breathing to bring them deeply inward, to a meditation on sound," says Larissa, a longtime faculty member for the Kripalu Schools and former Dean of the Kripalu School of Ayurveda.
Kripalu Yoga and live music also come together throughout the summer season, as Kripalu teachers present all-levels yoga classes on the Tanglewood lawn, set to classical compositions.
Kripalu has also formed a collaboration with the nearby Norman Rockwell Museum for private gallery tours, meditation, breathing techniques, and outdoor drawing classes.
These two organizations "teach people how to see themselves in the world in new ways," says Kripalu Yoga teacher and artist Mary Hannah Parkman, who co-presents a program on yoga, art, and mindfulness with Stephanie Haboush Plunkett, the deputy director and chief curator of the Norman Rockwell Museum. "Kripalu teaches through the lenses of yoga, meditation, and mindfulness. The museum teaches through art and history—and how to see through the eyes of an artist. Together, we offer ways for participants to see their own unique visions, whether they're formerly trained in art or not. We each have a distinct, creative perspective to share with the world."
Mindfulness, for Mary Hannah, is an inextricable part of art-making. "When I'm creating art, I'm actually co-creating with the present moment and inspiration itself. Unintended things may occur on a canvas—happy accidents—and they become part of the work, either accepted or transformed. I can't undo or erase, and so it all becomes a part of the process."
How refreshing. "Imperfect" endeavors are like that, especially when we stop multi-tasking.
Browse Creative Expression programs at Kripalu.
Lara Tupper's new album is titled This Dance. www.laratupper.com
Lara Tupper, MFA, is the author of two novels, Off Island and A Thousand and One Nights, and Amphibians, a linked short story collection forthcoming in 2021.
Full Bio and Programs