Kripalu Recipe: Thai Scrambled Tofu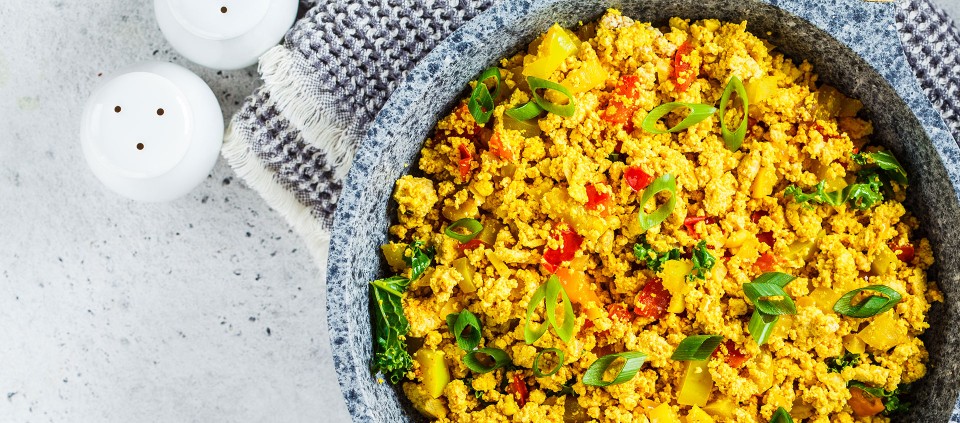 One of the original Kripalu scrambles using tofu instead of eggs, this dish works equally well as breakfast, brunch, lunch, or breakfast-for-dinner. Coconut milk adds moisture so the tofu doesn't dry out and a bit of sweetness to balance the spices.
The warming spices—turmeric, curry paste, and ginger—also make this dish perfect any time of day in winter or on cool mornings the rest of the year.
Serves 4.
8 ounces firm tofu
½ cup ¼-inch-diced red bell peppers
½ cup freshly cut or frozen corn kernels
¼ cup ¼-inch-diced onions
1 tablespoon toasted sesame oil
1 teaspoon ground turmeric
1 teaspoon ground cumin
1 teaspoon prepared green curry paste, such as Taste of Thai
½ cup grated carrots
1 teaspoon minced fresh ginger
1 tablespoon tamari
½ cup full-fat coconut milk
½ teaspoon fine sea salt
2 tablespoons chopped fresh cilantro
Drain the tofu and place it in a colander in the sink. Place a small bowl on the tofu and then put a large can of tomatoes or beans in the bowl. Let the tofu press for 20 minutes to drain excess water. Crumble the pressed tofu until it resembles scrambled eggs and set aside.
Heat a large sauté pan over medium-high heat for 2 minutes. Put in the peppers, corn, onions, and sesame oil, shaking the pan to coat the vegetables. Cook until the vegetables are just beginning to get tender, about 2 minutes. Stir in the turmeric, cumin, and curry paste, stirring to distribute the curry paste. Cook until the spices smell fragrant, about 2 minutes.
Stir in the crumbled tofu, carrots, and ginger and cook, stirring occasionally, until the carrots soften up a bit, 2 to 3 minutes. Stir in the tamari, coconut milk, and salt, and simmer until the liquid thickens up some, 2 to 3 minutes. Remove from the heat, stir in the cilantro, and serve.
Option: You could replace the tofu here with 6 eggs. Just sauté everything but the tofu in the sauté pan, including the tamari, coconut milk, and salt, then remove them from the pan and scramble the eggs in the pan. Add back the sautéed veg and you have a nice Thai egg scramble.
Excerpted from The Kripalu Kitchen by Jeremy Rock Smith with David Joachim. Copyright © 2019 by Jeremy Rock Smith. Excerpted by permission of Ballantine Books. All rights reserved. No part of this excerpt may be reproduced or reprinted without permission in writing from the publisher.
Jeremy Rock Smith, Kripalu faculty and a graduate of the Culinary Institute of America, began his career in classical French cuisine.
Full Bio and Programs