A Time to Thrive: Women's Week at Kripalu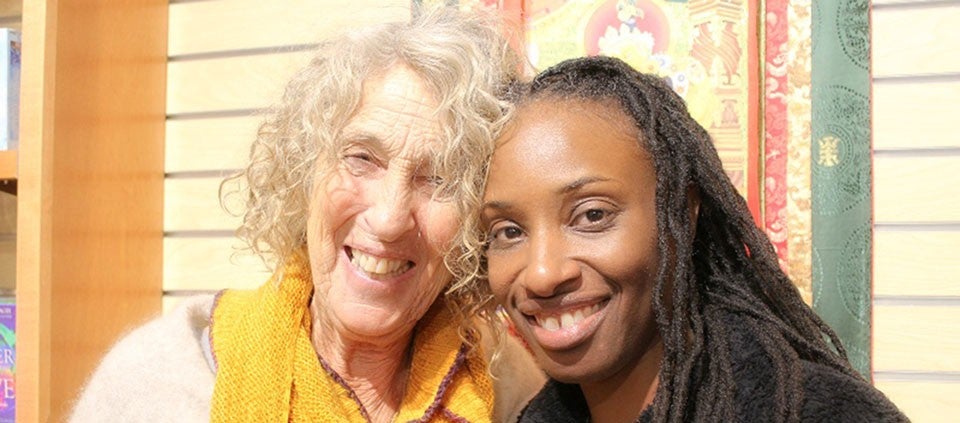 Debra, at right, with Women's Week workshop presenter Nancy Slonim Aronie
by Debra Ramsay
Stop
Pause a moment
Take a breath
Feel it traveling through your body
Exhale, Inhale
Breeeathe
Now you're ready!
That's a reminder from The Revolution Within: Women's Week at Kripalu. A reminder that life begins with breath and that conscious breath invites openness in the body and mind for understanding and ease.
There was lots to take in during Women's Week. It was an awesome event! I laughed. I learned. I communed. I cried. I wrote. And more. Before attending, when I read the event description, I could not have predicted all of the magic of the experience, but as soon as I read about Women's Week, I knew instantly it was for me.
I pictured a week away where someone else cooked, did all the dishes, took out the garbage and cleaned. I would get to practice yoga, eat, listen to speakers on a range of topics—from yoga and activism to race and politics to healing—and also spend time with me. I was sold!
If I'd known the food was going to be as good as it was, I would have gone for that alone. Breakfast was a buffet of hot and cold options, including a warm green soup, which I surprisingly found myself enjoying. Each lunch and dinner had a choice of soups, salads, make-your-own sandwiches, and additional entrées for meat eaters, vegans, vegetarians, and Ayurvedic practitioners. I savored every meal and particularly enjoyed the mushroom cheesesteak the day I departed.
Since this was my first trip to Kripalu, I hadn't known about the food. Instead, the opportunity to see some speakers live and in person was what hooked me. Vicki Noble was one person I particularly wanted to see. She's a writer who cocreated a round Tarot deck called Motherpeace. Images from the card deck were popularized when Christian Dior licensed and used the images for high-fashion clothing. Vicki's talks on matriarchy and Motherpeace didn't disappoint: I never anticipated such a riveting archaeological history lesson on the feminine and the Goddess, or hearing about peacemaking through sexuality by Bonobos! Her talks gave me a whole new perspective on relationships, governance, and life.
I wasn't yet familiar with Nancy Slonim Aronie when I signed up for a writing workshop with her as my daily morning session. In the workshop, everyone wrote and everyone read, even if this was the first time they'd done so. Beautiful friendships were created as well as beautiful prose, and I expect both will endure.
Though I am not new to writing, when it was my turn to sit in the chair beside Nancy and hold the mic, my hands shook and my insides jittered. Only when I was done reading did I look up into the room of faces. Per Nancy's instructions, we were to give feedback only on what we loved. As I trembled in the aftermath of sharing intimate words and emotions, I also felt appreciated, affirmed, and encouraged as I listened to the feedback. In that workshop, stories previously untold or hidden by many were given voice and everyone came out a winner. Thank you, Nancy!
I didn't make it to nearly enough of the yoga classes but I did love the yoga nidra session, and the Kripalu YogaDance® class with Jurian Hughes was amazing. Who knew dancing yoga was a thing!
Each day, Women's Week invited me to reach inside for my best self and share her with a community of no-longer strangers. Real bonds were formed. There were women from all over the United States and from Canada (like me), and I met one person from Australia. We learned from our differences and embraced our similarities, in a space that was created to allow us to share our stories, meals, and lives with one other. I went there by myself and ended up feeling like part of a community.
Plus, every evening I was excited to "go home" to my roommate, who I pretty much didn't see throughout the day. The random two-person room assignment became a beautiful connection where, each night, we shared what we had learned and experienced that day. We talked until sleep took over and we woke to repeat our daily ritual anew.
I returned home from Women's Week so full of feelings and food. I am rich with new knowledge and connections, and happy to have been a part of the fun and transformations. Now, as I sit reflecting, I am delighted by the memories as I pause for a just a moment and breeeathe.
Debra Ramsay is a writer, entrepreneur, healer, public servant, and coach. She is also the founder and president of iNTENTIONfirst, dedicated to inspiring you to live your dreams and thrive—body, mind, and spirit. Find out more: intentionfirst.com