Favorite Quarantine Foods from Our Faculty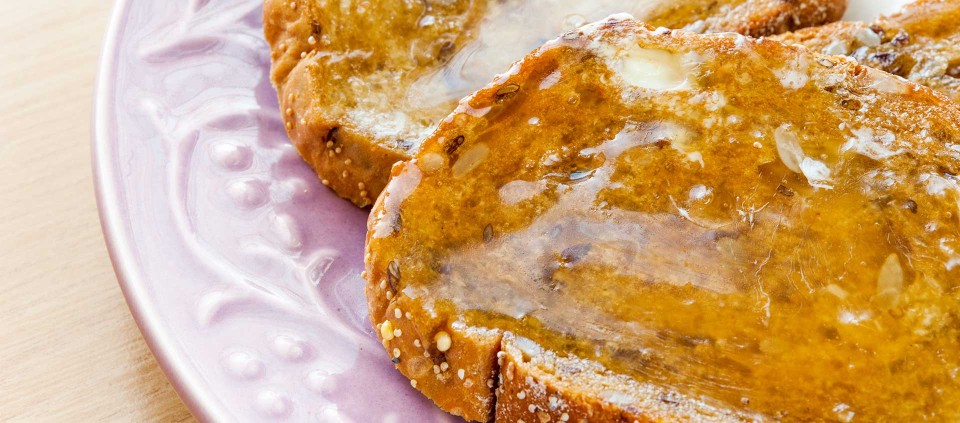 May 9, 2020
We asked our teachers what they've been whipping up in their home kitchens during isolation. Hope their answers inspire your menus this week!
Lauren Gernady: Buffalo Cauliflower Wings, raw chocolate, and kombucha
Janna Delgado: Pizza topped with pesto and pine nuts
Katie Hagel: Rice and beans, baby! Plus, anything with coconut milk. Coconut curry, kitchari with coconut milk, rice and beans with coconut milk, coconut milk in my breakfast cereal . . . It's cool, rich, satisfying, and full of healthy fats to nourish frazzled nerves. It is the perfect comfort food!
Read Katie's recipe roundup:
Rudy Peirce: Toast with olive oil and honey drizzled on it, a strong cup of coffee with half and half, and I'm ready for a day!
Mark Gerow: I love making pho or ramen at home with noodles, tofu, scallions and whatever else I can throw in from my fridge.
Cindy Yaple: My favorite quarantine food isn't a food at all—it's cooked water! I learned about this practice from Erin Casperson, Dean of the Kripalu School of Ayurveda. It has completely changed my life. No more bloating after meals, digestion is easier, and I simply feel better. It's easy to incorporate into my morning routine; I cook the water while showering in the morning and then drink it throughout the day.
Connie Wilson: Fresh spring greens coming up on the roadsides and in the woods, particularly the ramps (wild leeks) that my partner is cooking into everything.
Jennifer Reis: Mindful chocolate eating!
Lara Tupper: My mother's chicken and wild rice casserole with toasted almonds—the ultimate comfort food.
Here's how to make it.
¾ cup wild rice
2 chicken breasts (about 1 pound)
1 tablespoon olive oil
¼ cup butter
1 medium-sized onion, chopped
¼ cup flour
1 cup chicken stock or chicken broth
1 cup milk or cream
½ cup sliced or slivered almonds
Get recipes, yoga classes, and lots more on Kripalu Connect:
Preheat oven to 400 degrees.
Put up the rice to cook.
Cut raw chicken into bite-size pieces. Heat olive oil in saucepan and lightly brown chicken pieces.
Melt butter in a large cooking pot over medium heat. Add onion and sauté until soft. Add flour and mix until the mixture forms a smooth paste. Add chicken stock or broth and milk and stir continuously, until mixture is thick. (You may need to turn the heat up slightly.) When thick, turn off heat.
When rice and chicken are done, add to the flour mixture and combine.
Transfer mixture to a casserole dish. Sprinkle sliced almonds on top.
Bake for about 30 minutes at 400 degrees, until almonds are golden brown. Let cool on stovetop for a few minutes before serving. It goes really well with a side of greens and cranberry sauce.