Great Summer Reads from Kripalu Schools Faculty and Staff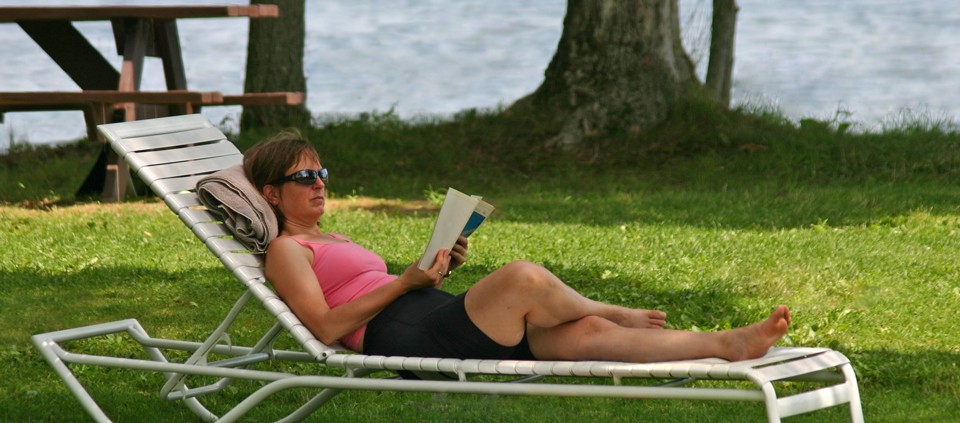 Need a great beach read? Here's what our Schools faculty and staff are kicking back with this summer!
From Sarajean Rudman, Kripalu faculty:
Living Beautifully with Uncertainty and Change, by Pema Chödrön
Pema Chödrön, a Buddhist nun, offers a beautiful perspective on how to recognize that you are okay in life no matter what is happening. Her words are relatable, honest, and enlightening all at the same time. I consider this book to be part of my yoga practice. It is a kind reminder that life is never smooth sailing, it is always moving and changing and you will never have it "all together," and that is just fine.
The Desire Map: A Guide to Creating Goals with Soul, by Danielle LaPorte
This is a great guide to learning how to live in accordance with how we want to feel instead of what we want to do. It is a true workbook, with lots of activities and insights on how to reset your mind and find true happiness and success in life from the inside out, instead of the outside in.
From Jonathan Foust (Sudhir), Kripalu School of Yoga faculty:
Spiritual Enlightenment, the Damnedest Thing, by Jed McKenna
An irreverent, thoughtful, and comedic romp that demystifies the mystical in ways that will challenge, infuriate, and possibly liberate you. This is one of those books that fundamentally altered my view of things.
From Erin Casperson, Dean of the Kripalu School of Ayurveda:
The Gifts of Imperfections: Let Go of Who You Think You're Supposed to Be and Embrace Who You Are, by Brené Brown
It was so helpful for me during transition. So, if you are in a transition, pick this up. She's great.
Point B: A Short Guide to Leading a Big Change, by Peter Bregman
Since stepping into the Dean role, I want to be sure I have all the tools to be able to serve the school, its students, and the School of Ayurveda team.
The Rosie Project, by Graeme Simsion
A fun, irreverent beach read, with an endearing protagonist. It's a sweet and awkward story about an unconventional, scientific way to fall in love.
From Jurian Hughes, Kripalu School of Yoga faculty:
The Heart Goes Last, by Margaret Atwood
I'm obsessed with dystopian novels these days—anything that can make the rather unbelievable world we seem to be living in right now feel a little more believable. This is the story of a couple living in their car who move into a "perfect" community when the opportunity arises, only to find out it's not as perfect as it appears.
From Vandita Kate Marchesiello, Kripalu Historian:
The Wrinkle in Time series, by Madeleine L'Engle
My granddaughter recently turned 7, and I was looking for a good summer read to pass along to her. I wondered if it might be time to share these mystical stories with her. I decided to scan over the first book in the series, A Wrinkle in Time. Yes, you guessed it, I read the entire book, couldn't put it down! What a story L'Engle weaves of youngsters living near the woods who come across three good witches who send them on an amazing journey to discover their strengths and weaknesses. The writing style is easy and enjoyable, just right for summer, whether you're 7 or 70 years old. I look forward to reading the next in the series, A Wind in the Door.
From Jess Frey, Kripalu faculty:
The Wild Edge of Sorrow: Rituals of Renewal and the Sacred Work of Grief, by Francis Weller
Grief, sorrow, death … major life experiences we don't often talk about yet are such a part of our everyday life. How do we navigate these waters with gratitude, intimacy, and community, and see the holiness and sacred in all things?

Salt, by Nayyirah Waheed
Simple, raw, potent, profound, penetrating, deep, real … A collection of words, thoughts, feelings, and poems that explore life, love, pain, healing, connection, and the Self.

Embracing Heaven & Earth, by Andrew Cohen
To uncover the mystery of who we are, to move beyond who and what we think we are. A journey of self- discovery, truth, and living that out in the world.
From Scott Blossom, Kripalu School of Ayurveda faculty:
How Not to Die: Discover the Foods Scientifically Proven to Prevent and Reverse Disease, by Michael Greger, MD
Anyone who is into Ayurveda is by definition a foodie, and this book offers an astonishing amount of scientific evidence and practical advice about the healing powers of whole foods.
From Micah Mortali, Director of Outdoor Education and Programming:
The Last Child in the Woods: Saving Our Children from Nature-Deficit Disorder, by Richard Louv, and What the Robin Knows: How Birds Reveal the Secrets of the Natural World, by Jon Young
Both are about the importance of time spent in nature and our connection to the Earth—so important in this day and age.
From Kate O'Donnell, Kripalu School of Ayurveda faculty:
The Queen's Fool, by Phillipa Gregory
This is my favorite of Gregory's books, which all read like Danielle Steel novels set in Elizabethan England. And they have nothing to do with yoga! A wonderful vacation for the mind.
© Kripalu Center for Yoga & Health. All rights reserved. To request permission to reprint, please e-mail editor@kripalu.org.