Kripalu Recipe: Buffalo Cauliflower Wings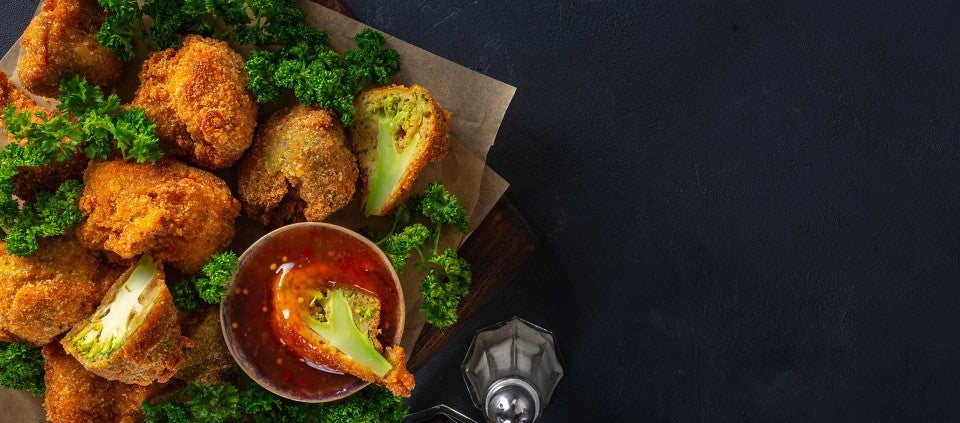 May 14, 2020
Looking to spice up your dinner repertoire? This recipe is guaranteed to rock your taste buds' world.
Cauliflower has really hit its stride these past few years. This humble crucifer can be spotted masquerading as pizza crust, a base for pancake batter, and now as a substitute for chicken wings. With its mild and unassuming flavor and malleable texture, cauliflower can be transformed into a whole slew of culinary delights.
Cauliflower is a proud member of the Brassica family, along with cabbage, broccoli, kale, and Brussels sprouts. Traditionally harvested in late spring and summer, cauliflower is the perfect antidote to the inflammatory aspects of summer. (Nature always provides us with the antidote.) The sweet, cool, astringent qualities of cauliflower can help quell the inner fires that build, be it from loads of time in the sun or copious amounts of Frank's RedHot Original Cayenne Pepper Hot Wing Sauce (my absolute top choice for this recipe).
With its high sulfur content, cauliflower has earned itself a reputation for being a gaseous food. However, well-spiced and cooked cauliflower will help temper the gas-forming qualities. I've added hing, or asafoetida, for good measure, as it's lauded as the Ayurvedic version of Beano.
Watch recipe demos and lectures on Ayurveda with Lauren Gernady—plus yoga classes, guided meditations, and more—on Kripalu Connect!
Serve these bad boys on a bed of arugula with a side of blue cheese dressing, or just plain sour cream. Trust me, you're going to need the dairy to put out some mouth fires. You can't go wrong rounding out the meal with some carrot and celery sticks.
1 cup chickpea flour (chickpea flour provide more protein, but you can substitute brown rice flour or all-purpose flour)
½ teaspoon ground black pepper
½ teaspoon garlic powder or a pinch of hing/asafoetida
1 head of cauliflower, broken into florets
4 tablespoons unsalted butter (option to use vegan butter)
½ cup of Frank's RedHot Original Cayenne Pepper Hot Wing Sauce (I'm drooling just thinking about this stuff)
Preheat the oven to 350 degrees.
Cut parchment paper to fit prepared baking sheet. (This is critical; otherwise, all the coating will be lost to the baking sheet.)
In a large mixing bowl, whisk together chickpea flour, black pepper, and garlic or hing. (Feel free to experiment with various spices.)
Slowly pour in about ¾ cup water as you continue to whisk, using more or less as needed; the batter should have the consistency of crepe batter—slightly thinner than pancake batter. If you add too much water, just sprinkle in more flour. This recipe is very forgiving.
Using your hands, gently toss the cauliflower in the batter. Once the florets are fully coated, lay them piece by piece onto the parchment paper, leaving a little space between each "wing." Bake for 20 minutes.
While the cauliflower is baking, prepare your sauce. In a small saucepan, melt the butter over medium heat. Remove from heat and whisk in the hot sauce, until completely homogenized. (Caution: This may make your eyes burn, but it's worth it.)
After 20 minutes of baking, remove the cauliflower from the oven. Loosen it gently from the tray with a metal spatula. Pour the wing sauce over the baked cauliflower, coating as evenly as possible. Return to the oven and bake 10–15 more minutes, or until the wings have slightly browned.
Let cool for five minutes, and then dive in!
Lauren Gernady is an Ayurvedic Health Counselor, a 500-hour Ayurvedic Yoga Teacher, a graduate of the Kripalu School of Ayurvedic (KSA), and a former intern and Academic Coordinator of KSA.
Full Bio and Programs