Tuesday, February 26, 2019
Category:
Tags: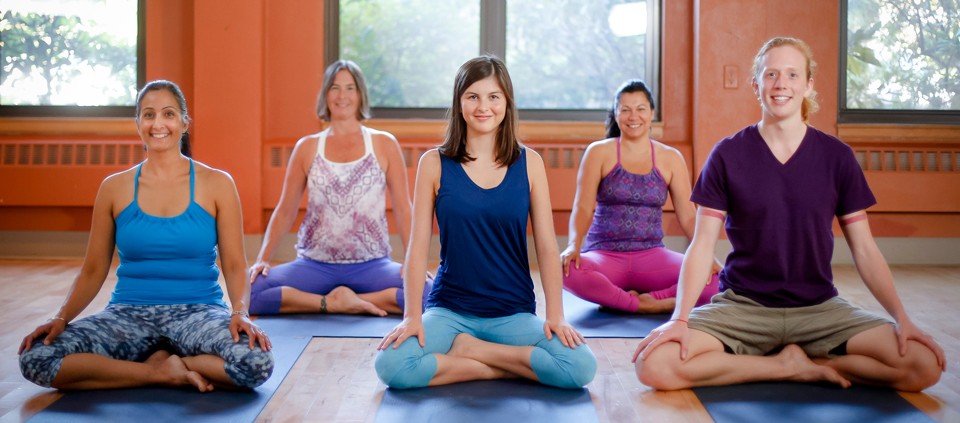 What's New in the Kripalu Schools
Thus far in 2019, we've welcomed a new Dean of the Kripalu School of Yoga, Cristie Newhart; and new faculty in the School of Integrative Yoga Therapy. The School of Mindful Outdoor Leadership launches Kripalu's first-ever two-night camping trip this summer, on nearby Mount Greylock. We're bringing our alumni community together on Facebook. And we're looking forward to the release this year of new books from our faculty. Here are all the updates.
Kripalu's 28th Annual Yoga Teachers Conference: Most yoga teachers have had the experience of being approached after class with questions about posture issues, chronic pain, or even how to sleep better. Set for October 1–4, our annual conference addresses this challenge—and opportunity—by focusing on the therapeutic benefits of yoga. Yoga teachers and yoga therapists will take home evidence-based tools for promoting their students' and clients' health and well-being. Find out more.
School of Mindful Outdoor Leadership's Level 2 training: A two-night stay on nearby Mount Greylock will be a high point of the Mindful Outdoor Guide Certification Level 2: Aligning with Nature in June. Shawn Stevens, a member of the Stockbridge-Muncee Mohicans, will join the group to help teach the bowdrill friction fire–making, and we'll also welcome wilderness experts from Berkshire County's Mass Audubon chapter. The training also offers advanced forest-bathing techniques, and an expanded set of nature-based meditations and inquiries. Meanwhile, several participants in our first Level 1 training are already taking their work into the world: They're in conversation with the Massachusetts Department of Conservation and Recreation about offering Mindful Outdoor Experiences across the state. Find out more.
New books from our faculty: Make some room on your bookshelf! Micah Mortali's new book, Rewilding: Meditations, Practices and Skills for Awakening in Nature, will be released this fall by Sounds True. We're also excited for new books from Coby Kozlowski and from Stephen Cope, whose Deep Human Connection: Why We Need It More than Anything Else is now available. Ann Swanson's new book is Science of Yoga: Understand the Anatomy and Physiology to Perfect Your Practice. And Marlysa Sullivan's Yoga and Science in Pain Care: Treating the Person in Pain comes out in August.
OJAS STUDIO Scholarships: The new OJAS STUDIO Scholarships support students in the Kripalu Schools who are committed to bringing the benefits of Ayurveda and yoga to underserved communities. Ojas is a Sanskrit term that can be translated as "vigor" or "essence of vitality"; according to Ayurvedic philosophy, ojas is the vital energy that promotes our immunity, strength, and happiness. OJAS STUDIO is a food and lifestyle brand created to spread the benefits, love, and wonder of Ayurveda, by reimagining its age-old traditions for modern lives. Kripalu School of Ayurveda faculty have supported OJAS STUDIO with guidance regarding the contemporary interpretation of ancient Ayurvedic wisdom. To find out about our scholarships available this year, write to scholarship@kripalu.org.
The Kripalu Schools Alumni Facebook Group is for graduates of the Schools who are looking to connect, share wisdom, and learn from each other about topics related to yoga, Ayurveda, Integrative Yoga Therapy, and mindful outdoor leadership. Come introduce yourself, let us know what you've been up to since your training, share your aha moments about teaching and learning, and support others by commenting on their posts. Schools faculty post resources, updates, and opportunities for continuing education. Join today.
New faculty for the School of Integrative Yoga Therapy (IYT): Dean Mary Northey and IYT founder Joseph Le Page lead a team of experts in the field, with specializations that include somatic psychology, integrative health science, yoga for cancer survivors, and traditional healing modalities. Meet the faculty.
The dance of yoga: The School of Yoga has added movement trainings from three longtime Kripalu faculty members to our 1000-hour offerings. Megha Nancy Buttenheim, Toni Bergins, and Dan Leven have each trained hundreds of teachers in their respective approaches to dance, healing, and embodiment. Get credit toward 1000-hour certification while immersing in a joyful dance experience!
1000-hour tracks: Yoga teachers pursuing their 1000-hour certification at Kripalu can choose between two tracks: the Teacher Within the Kripalu Tradition or the Well-Rounded Teacher. The first option is designed for those who feel a strong connection with the Kripalu lineage, and are led by Kripalu-trained teachers and faculty. The Well-Rounded teacher track offers a "liberal arts" take on advanced education, with a variety of programs taught by both Kripalu faculty and frequent Kripalu presenters. Find out more.
Continuing education for School of Ayurveda alumni: As part of its commitment to education and personal empowerment, the Kripalu School of Ayurveda has created a series of PACE (Professional Ayurvedic Continuing Education) programs designed for the Ayurvedic Health Counselor and Ayurvedic practitioner. Course topics include skin health, balancing the nervous system with Ayurveda, herbology, immunity and chronic disease, and more. Browse our upcoming PACE programs.
© Kripalu Center for Yoga & Health. All rights reserved. To request permission to reprint, please email editor@kripalu.org.
Kripalu offers an amazing range of yoga retreats and trainings for people at all levels of experience.
Explore